Trump: I think we'll have coronavirus vaccine by end of year
President Trump says once we have a vaccine, distribution will take place 'almost simultaneously' due to help from military.
Get all the latest news on coronavirus and more delivered daily to your inbox. Sign up here.
Continue Reading Below
President Trump said he believes the U.S. would have a coronavirus vaccine by the end of 2020.
PFIZER, BIONTECH BEGIN HUMAN CORONAVIRUS VACCINE TRIAL IN US
"I think we're going to have a vaccine by the end of the year," Trump told reporters on Thursday. "I think distribution will take place almost simultaneously because we geared up the military, and you'll see that tomorrow."
There are more than 1.4 million confirmed cases of COVID-19 in the U.S.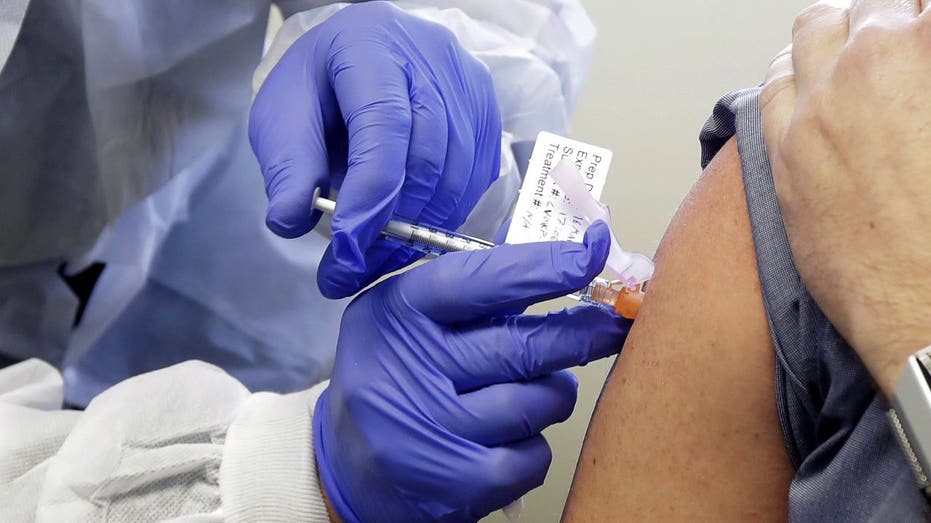 Neal Browning receives a shot in the first-stage safety study clinical trial of a potential vaccine for COVID-19, the disease caused by the new coronavirus, Monday, March 16, 2020, at the Kaiser Permanente Washington Health Research Institute in Seat

GET FOX BUSINESS ON THE GO BY CLICKING HERE

Companies including Moderna and Pfizer are working on developing a vaccine, although experts warn the process could take years. Pfizer is optimistic about its chances and began human testing of an experimental coronavirus vaccine in the U.S. in May. Pfizer says such a vaccine could be ready for U.S. distribution by the end of the year if proven safe and effective.

CLICK HERE TO READ MORE ON FOX BUSINESS

Source: Read Full Article