(CNN)The CEO of Italian tire maker Pirelli has a message for America's business leaders: Prepare for the worst and your company may come through this crisis stronger than it was before.
"Considering that we are facing a very tough situation for many months. If we move in advance, we can cope with it and we can come out of it even stronger," said Marco Tronchetti Provera, who has led Pirelli since 1992. "We have to work better with our customers and suppliers. We have to get closer one to another, to blend together to protect the weakest."
Tronchetti Provera has been running the Milan-based company from one of his homes since the coronavirus crisis first took hold in Italy over a month ago. Both of Pirelli's Italian factories and its corporate headquarters have been shut down so many of the company's office employees are working from home as well. The rest of Pirelli's roughly 3,000 employees in Italy, most of them factory workers, remain on the company payroll during the lockdown, a spokeswoman said,
So far, Italy has suffered more deaths from the virus than any other country in the world and the nation remains on lockdown. As the United States struggles to contain its own outbreak, Tronchetti Provera spoke with CNN Business by phone about how the crisis is already changing his company.
"We are a traditional company, we are not an Internet company, and [for employees] to see the CEO with no tie, with a dog beside him working in a teleconference is something that brings people closer to you," he said. "So I think it's more human. It sounds the opposite of what it should be because technology is cold and makes us far away one from another."
Lessons learned so far
Pirelli had already been dealing with the effects of the coronavirus at the company's facilities in China before it hit Italy. Tronchetti Provera said that experience helped the company to better understand what to expect.
Production at Pirelli's three Chinese factories dropped to about 20% of its normal volume. It has since recovered to about 60%, he said.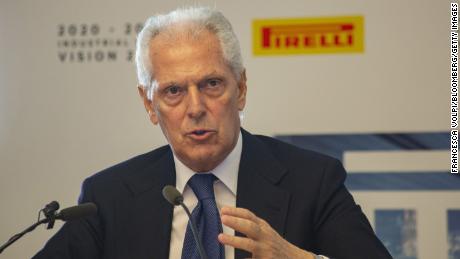 Office life in China isn't entirely back to normal, though. Most workers have returned, he said, but protective measures, such as social distancing and the use of protective gear, are still being taken.
"People respect the rules," he said. "They are back, but they have to be very, let's say, under control."
Luckily, he said, none of the company's more than 5,000 workers in China were effected by coronavirus. But he noted that the company's factories there are not located near Wuhan, the center of the virus's spread.
Things are different in Italy, where two employees have tested positive for the virus so far. It's something Tronchetti Provera called inevitable given that the company is headquartered at the center of the outbreak. One of the workers had already been at home when the infection was found. The other had been working at a plant that was then thoroughly disinfected before the factory was briefly reopened with a reduced workforce, a Pirelli spokesman said. That factory is now closed.
"We have to apply in the factories all the rules to protect people and thinking the situation will be much worse than what our advisers are telling us today," Tronchetti Provera said.
He said he was pleasantly surprised at how quickly the company was able to make organizational and systems changes to deal with the crisis. Pirelli had already been rolling out digital systems for internal communication when the shutdown occurred, and that process had to be accelerated. The company has also had to make wider use of digital training platforms.
"We are activating processes that, on paper, we should have been implementing in the next months, some believe in the next years. We implemented these projects in days, in weeks," he said. "So parameters are changing. What we have today was unthinkable two months ago."
Preparing for the worst
But Tronchetti Provera is not optimistic about economic recovery once the crisis passes. The economic impact, he said, is likely to be even worse than most people think.
"We have to anticipate the market. We have to reduce the stocks to minimum possible level," he said. "We have to produce only for on-demand [orders] because the market will be very weak for many months."
As a result, Pirelli has taken steps to cut costs, freeze investments and reduce production, he said.
"If we are able to [we must] protect our finances, our cash flow, our profitability. We have to act in order to protect the basics of our balance sheet," he said.
Tronchetti Provera also called on other countries, in Europe and elsewhere, to do more to help one another.
"No one can survive this alone," he said. "Not even the United States, which is the strongest, the most independent. But they need the world to continue to grow and if we don't get together, in one way or another, the world won't grow and it will be bad for everybody."
Source: Read Full Article