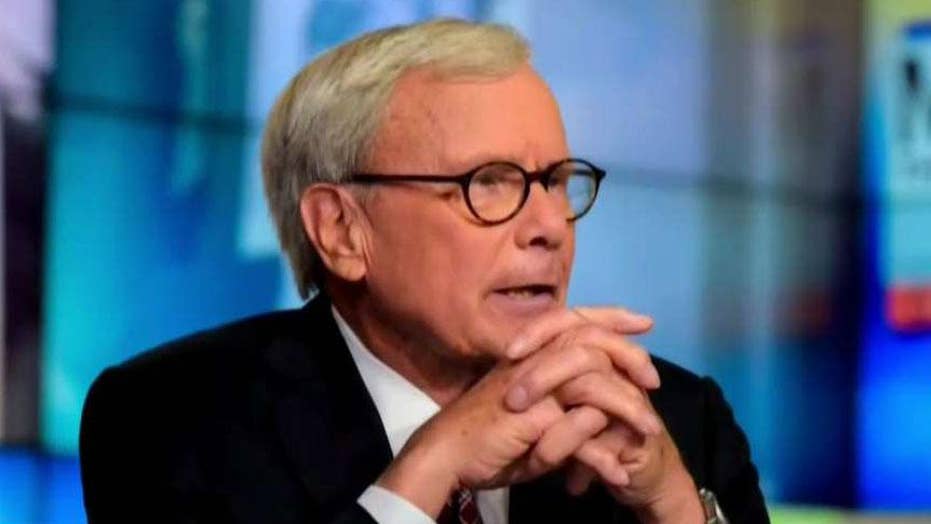 Brokaw faces backlash
Apologizes for comments on Hispanics.
NBC News' Tom Brokaw amplified a widely criticized story Wednesday, repeating a South Dakota emergency room nurse's claims on CNN while discussing the state of America heading into Thanksgiving.
"In my home state of South Dakota, Gov. Kristi Noem refuses to wear a mask, or to recommend them, even though COVID is rising fast in her state. Noem remains so popular that nurses say a lot of patients arrive at the hospital with COVID but because they've been listening to their governor, they don't think they're in grave danger until they become very, very sick," Brokaw said on MSNBC's "Morning Joe."
As he spoke, a Nov. 16 Washington Post headline about South Dakota emergency room nurse Jodi Doering appeared on the screen. Her viral claims about COVID-denying patients have since come under heavy scrutiny. Last week a CNN interview featured Doering claiming that people dying from coronavirus often don't believe the disease is real.
"It wasn't one particular patient. It's just a culmination of so many people, and their last, dying words are, 'This can't be happening, it's not real.' And when they should be spending time FaceTiming their families, they're filled with anger and hatred, and it just made me really sad," the nurse told CNN on "New Day" last week.
CNN SILENT AS NURSE'S VIRAL TALE OF PATIENTS DENYING CORONAVIRUS FROM DEATHBEDS FALLS APART
The interview piled up 5.9 million views on one Twitter clip alone and NewsBusters conducted a study indicating the network spent 23 minutes and 38 seconds on Doering's tale over a two-day period.
However, journalist David Zweig penned a column "Are COVID Patients Gasping 'It Isn't Real' As They Die?" for the tech publication Wired, declaring, "An ER nurse's anecdote of deranged denialism went viral. But when the media caught wind of the story, reporters didn't do their jobs."
The New York-based Zweig – an author and columnist who has written for The Atlantic, The New York Times and The Wall Street Journal, among other outlets – doubted Doering's claim after contacting other hospitals in the same area of South Dakota and finding no one else who had Doering's experience.
JOURNALIST QUESTIONS VIRAL CNN INTERVIEW OF NURSE WHO CLAIMED 'DEATHBED DENIALISM' OF CORONAVIRUS
National Review also probed Doering's story and didn't find any other nurses in the area who witnessed the things she claimed. They also discovered she holds strongly liberal political views. CNN was criticized for not doing enough to fact-check her claim and slammed for giving her a platform to share the private words of dying patients.
CNN has stayed silent amid backlash to the story, but Brokaw was far from quiet when he echoed it on Wednesday.
CLICK HERE TO GET THE FOX NEWS APP
Source: Read Full Article