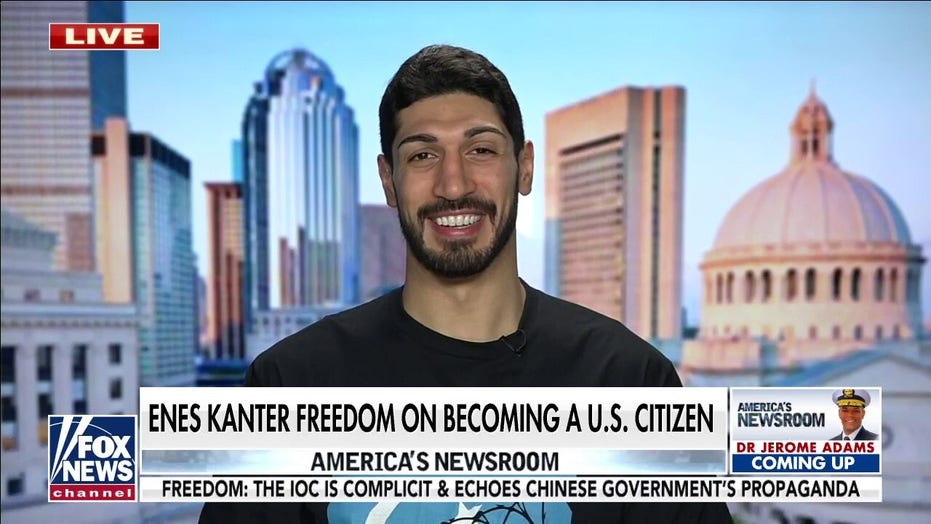 Enes Kanter on his legal name change to include 'Freedom' after becoming American citizen
The NBA player discusses his name change as well as his criticism of China and LeBron James.
NBA player Enes Kanter Freedom, an outspoken critic of Turkey's authoritarian regime and human rights advocate, spoke to "America's Newsroom" Tuesday about changing his legal name to include 'Freedom' in celebration of his new American citizenship.
"It was probably the greatest moment of my life," the Boston Celtics player told co-hosts Bill Hemmer and Dana Perino.
In 2017, Kanter Freedom, an immigrant from Turkey, had his passport seized during a layover in Romania after the Turkish embassy canceled his passport. Kanter Freedom said despite a "rough" six years working towards naturalization, Americans have opened their arms and given him a warm welcome.
"I think it was a dream come true," added Kanter Freedom. "I was like wow I cannot believe I'm finally, you know, gonna call somewhere home. So, that definitely meant so much to me, you guys have no idea."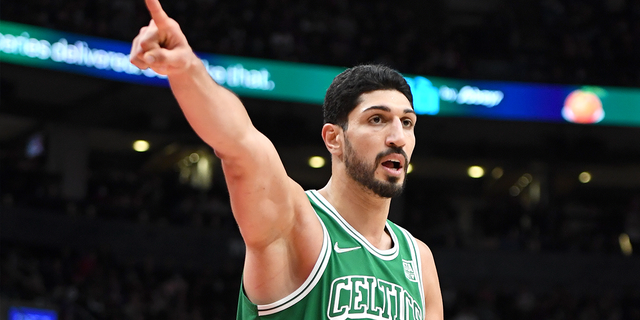 Nov 28, 2021; Toronto, Ontario, CAN; Boston Celtics center Enes Kanter (13) gestures as he reacts to an officials call against Toronto Raptors in the second half at Scotiabank Arena.
(Dan Hamilton-USA TODAY Sports)
Kanter Freedom recalled a story in which one of his teammates criticized then-President Barrack Obama back in 2009. Unaware of the freedoms intrinsic to America, he feared that his teammate would be thrown in jail for his comments about the government. His teammate laughed and told him not to worry.
"Freedom meant so much to me. I wanted to make that word part of me because obviously in America you have freedom of speech, religion, expression, and press," noted Kanter Freedom.
He went on to say that Americans should feel blessed to have their freedoms, underscoring the reality that so many other countries around the world do not.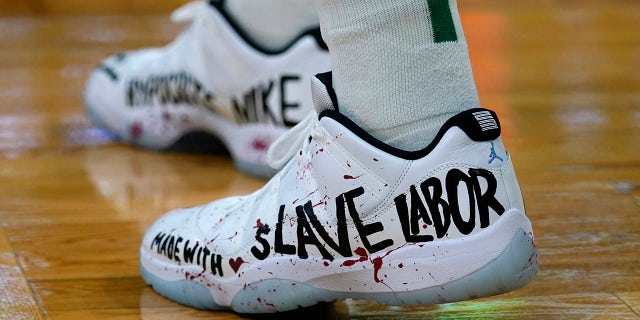 Boston Celtics center Enes Kanter displays a message on his shoes during the first half of an NBA basketball game against the Washington Wizards, Wednesday, Oct. 27, 2021, in Boston. 
(AP Photo/Charles Krupa)
Kanter Freedom said the American citizenship exam was "very easy" because of how long and hard he had studied for it, but laughed when telling a story about how his American friends were unable to answer many of the test preparation questions correctly, despite being citizens themselves.
In 2018, Reuters cited that two-thirds of Americans would be unable to pass a U.S. citizenship test given the chance.
Source: Read Full Article