London (CNN Business)Covid-19 has brought untold hardship to Africa, but lockdowns are also driving a move to online shopping in a continent where it has been slow to take off.
The whole of Africa had only around 21 million online shoppers in 2017 — about the same number as Spain. That's less than 2% of the world's total, according to the latest UN data.
Covid-19 had infected more than 260,000 people in Africa, as of June 18, and lockdown restrictions have forced many open-air markets and retailers to shut, with consumers being told to stay at home. In response, digital entrepreneurs across the continent have launched new services for ordering and delivering supplies.
"E-commerce has been a turnkey solution," Torbjörn Fredriksson, head of e-commerce and digital economy at the UN Conference on Trade and Development (UNCTAD), tells CNN Business. It has enabled "supply chains to continue to function and to get food from farms to tables," he adds.
Opening up online
Farmcrowdy began life in 2016 as a digital platform providing small farmers across Nigeria with access to finance and support. But in April, it launched Farmcrowdy Foods, an online store where people can buy fresh food from farmers.
Kenneth Obiajulu, the company's managing director, told CNN Business that it started developing the marketplace model in 2019, but decided to fast track the launch as Nigeria's lockdown made it difficult for farmers to sell produce.
Through the food platform, Farmcrowdy collects produce from its network of more than 25,000 farmers situated in the rural north of the country, before transporting it to storage facilities in the south, near Lagos, where there is most demand.
"We list all the produce that we have sourced directly from the farmers. Then individuals can order it and get it delivered to their homes," says Obiajulu. Since launching, during what it describes as a pilot phase with limited marketing, it has received more than 2,000 orders via its hotline, WhatsApp and mobile app.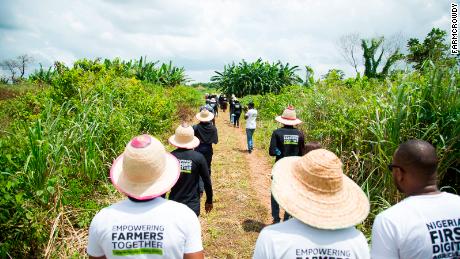 Nigerian startup Flutterwave, which began as a digital payments company, also launched an online marketplace in April, where businesses can set up a storefront on the platform and list and sell their goods. The service is now available in 15 African countries.
Olugbenga Agboola, the company's founder, told CNN Business in May that the online store was created as a lifeline for small companies that have been closed during lockdowns, and that more than 1,000 businesses had signed up to sell products.
Jumia (JMIA), one of the continent's largest e-commerce operators, reported a four-fold increase in sales of groceries in the second-half of March, compared with the same period last year — although its food delivery service was impacted by restaurants shutting down.
Shifting shopping habits
Starting from a low base, e-commerce in Africa was on the rise before the pandemic. According to UNCTAD, the number of online shoppers on the continent has grown by 21% annually since 2014, higher than the world's average growth rate of 12%. The launch of new platforms in response to Covid-19 has accelerated this growth, says Fredriksson.
A recent study from market research firm Nielsen found that around 30% of online consumers in Nigeria, South Africa and Kenya shopped more online during the lockdown period.
But Fredriksson warns that it won't all be plain sailing. "The shift to online platforms and services is far from automatic in Africa," he says, adding that many countries lag in terms of broadband access, transport and infrastructure.
The biggest hurdle is gaining consumer trust, says Obiajulu. But the pandemic could be the turning point.
"Individuals won't be buying the same way as they used to before," he says. "People are becoming comfortable with the fact that they don't need to step into the market to get what they need to eat. We are positioning ourselves for that new normal."
Source: Read Full Article