Georgia Secretary of State Brad Raffensperger, the Republican official who came under fire by former President Donald Trump while doing his job to certify the 2020 election results in his state, has confirmed that he is running for reelection next year.
"I still enjoy the job and, yes, I am running again," Raffensperger told the Rotary Club of Gwinnett County on Tuesday, according to the Atlanta Journal-Constitution.
He spoke at the event about the essential role that the rule of law plays in the democratic process, saying, "I lived it" in reference to his steadfast refusal to overturn the results of the election following a Trump administration pressure campaign.
"I can tell you it's very important to the very fabric of society and us as Americans," Raffensperger said, per the Journal-Constitution. "When the time came to choose, I had to make a decision. And I came down on the side of the rule of law."
Raffensperger previously expressed his intention to run again while speaking to the newspaper. His recent comments come as a handful of challengers from both sides of the aisle have jumped into the race.
Another prominent Republican to clash with Trump over his false election claims, Georgia Lieutenant Gov. Geoff Duncan, announced earlier this week that he would not seek reelection in 2022. 
Trump homed in on Raffensperger with public attacks as it became clear that the final presidential election tally was going to be a close one in Georgia.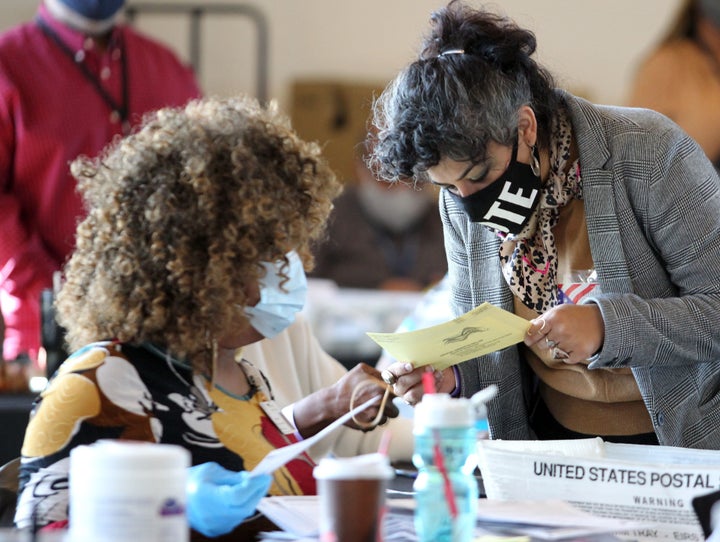 In early January, Trump made an extraordinarily inappropriate request of the state official over the phone, according to a copy of the call that was leaked to news outlets. Over the course of an hour, Trump pushed baseless conspiracy theories about election fraud and falsely claimed to have won the presidential election in the state of Georgia. 
"And there's nothing wrong with saying that, Brad," Trump said. "You know, I mean, having the correct ― the people of Georgia are angry. … And there's nothing wrong with saying that, you know, that you've recalculated." 
After Raffensperger pushed back, refusing to commit election fraud, Trump leaned harder, saying, "All I want to do is this: I just want to find 11,780 votes, which is one more than we have." 
Georgia prosecutors opened a criminal investigation of the phone call in February. 
In the end, it was clear that President Joe Biden carried the state of Georgia and its 16 electoral college votes. The state counted the ballots three times. 
Raffensperger's refusal to buckle to Trump's demands put him in an awkward position with some in his party who remain firmly loyal to the former president. Georgia's GOP-dominated legislature voted in March to put in place new measures making it much harder to vote ― in part out of revenge against the secretary of state, according to one official.
In March, Trump endorsed Rep. Jody Hice (R-Ga.) as Raffensperger's replacement, saying in a statement that "[u]nlike the current Georgia Secretary of State, Jody leads out front with integrity." 
On the Democratic side, Bee Nguyen leads the field as a current state representative for the Atlanta area.
RELATED…
Source: Read Full Article