Ukrainian President Zelenskyy delivers a speech to US Congress
Ukrainian President Volodymyr Zelenskyy is set to deliver a virtual address to Congress Wednesday morning, and he is expected to again request a no-fly zone over Ukraine as Russia's brutal invasion of the country continues.
While the White House has said a no-fly zone would be escalatory, President Biden will follow Zelenskyy and announce an additional $800 million in military funding for Ukraine – on top of the $200 million that was announced Saturday.
Members of Congress have stopped short of calling for a no-fly zone, with many echoing Biden's concerns.
White House press secretary Jen Psaki on Tuesday said Biden "continues to believe that a no-fly zone would be escalatory, could prompt a war with Russia."
"I don't believe there is a lot of advocates calling for that at this point in time from Capitol Hill, but we certainly understand and recognize that is still a call from President Zelenskyy," Psaki said.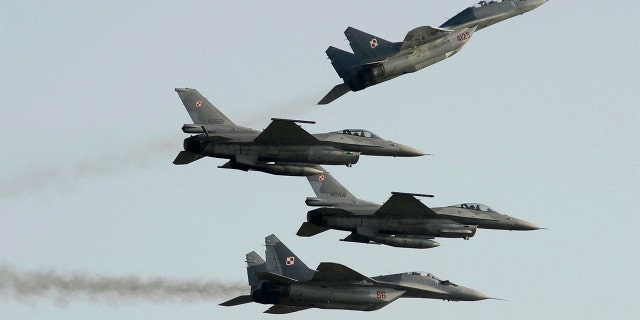 Two Polish Air Force Russian-made Mig 29's fly above and below two Polish Air Force U.S. made F-16 fighter jets during the Air Show in Radom, Poland, on Aug. 27, 2011. 
(AP Photo/Alik Keplicz, File)
But a growing number of bipartisan lawmakers have been urging the Biden administration to facilitate a deal with Poland to send MiG-29 planes to Ukraine for additional air support as Russia continues its multifront war on the country.
The Pentagon last week rejected Poland's proposal for the U.S. and NATO to deliver MiG-29 planes to the Ukrainian military, arguing that the move could be mistaken as "escalatory" and could result in "significant Russian reaction" that could increase the prospects of a military escalation with NATO.
"We recognize there are a range of bipartisan calls, but what we have the responsibility to do here is to assess what the impact is on the United States and our own national security," Psaki said.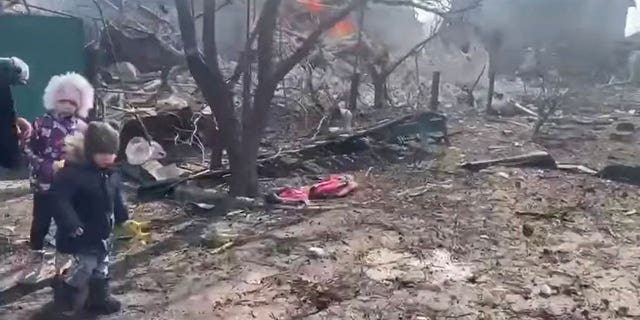 A damaged building amid Russia's invasion of Ukraine, in Kharkiv, Ukraine March 14, 2022.
(REUTERS/Oleksandr Lapshyn)
Biden and NATO have ruled out a no-fly zone over Ukraine, saying that enforcing it would put the U.S. and NATO in direct confrontation with Russia and would expand the conflict.
Ukraine is not a member of NATO, so it is not subject to the Article V provision of the NATO alliance that says when one member country is attacked, all member countries will take action to assist.
On Monday, the parliament of Estonia called for U.N. member states to "take immediate steps to establish a no-fly zone" over Ukraine to prevent further civilian casualties as war rages on.
Estonia is the first NATO member nation to have a body formally call for the implementation of a no-fly zone amid Russia's ongoing invasion.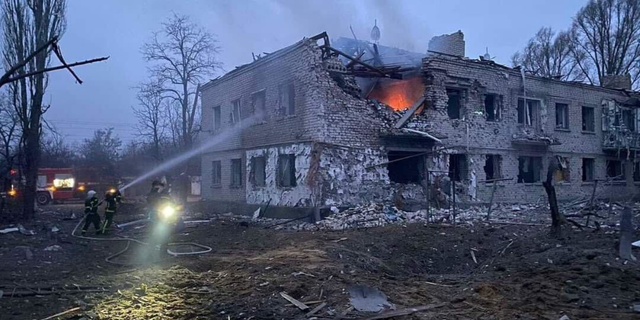 Several buildings in Starobilsk within the Luhansk Oblast region of Ukraine show significant damage because of shelling, according to images shared by the State Emergency Service of Ukraine.
(State Emergency Service of Ukraine)
Psaki said the White House disagrees with Estonia's argument that a no-fly zone "would be an effective step because a no-fly zone, which often people shorthand, essentially means, shooting down Russian planes and then potentially shooting back at us."
Over on Capitol Hill Tuesday, Senate Minority Leader Mitch McConnell, R-Ky., said the United States needs to do "anything we can to help our Ukrainian allies, short of putting our troops across the NATO line."
As for Zelenskyy's requests for a no-fly zone, McConnell said: "He knows we are not going to enforce a no-fly zone in Ukraine."
Zelenskyy earlier this month spoke on a Zoom video call with more than 280 members of Congress. During the call, Zelenskyy requested more lethal aid, planes and additional sanctions – specifically to shut down Russian oil imports.
Since that call, Biden announced a ban on all imports of Russian oil, gas and energy to the United States, targeting "the main artery" of Russia's economy amid President Vladimir Putin's war on Ukraine.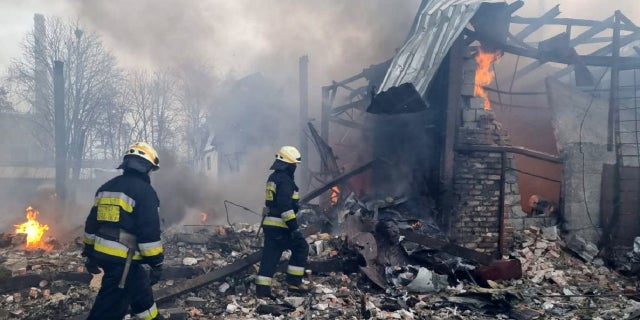 Firefighters at the site after airstrikes hit civil settlements as Russian attacks continue on Ukraine in Dnipro, Ukraine, on March 11, 2022. 
(STATE EMERGENCY SERVICE OF UKRAINE/HANDOUT/Anadolu Agency via Getty Images)
Biden also called for an end to normal trade relations with Russia and said last week that the United States is banning the import of Russian seafood, vodka and diamonds.
Revoking Russia's "most favored nation" status will allow for increased tariffs on imports from the country in addition to the crushing sanctions already imposed as a consequence of Russia's invasion of Ukraine. But it must be done by Congress. Biden highlighted bipartisan support for the move in a Friday announcement in conjunction with other G7 and European Union leaders.
On top of banning of goods and oil, Biden last month sanctioned major Russian banks, including VTB, Sberbank, Bank Otkritie, Sovcombank OJSC and Novikombank. The sanctions made it harder for Russia to do business in dollars, euros, pounds and yen.
The U.S. sanctions also target Russia elites: Sergei Ivanov and his son Sergei, Andrey Patrushev and his son Nikolai, Igor Sechin and his son Ivan, Andrey Puchkov, Yuriy Solviev and two real estate companies he owns, Galina Ulyutina and Alexander Vedyakhin.
The sanctions also limit the borrowing opportunities for 13 Russian entities and enterprises, according to the U.S.: Sberbank, AlfaBank, Credit Bank of Moscow, Gazprombank, Russian Agricultural Bank, Gazprom, Gazprom Neft, Transneft, Rostelecom, RusHydro, Alrosa, Sovcomflot and Russian Railways.
The U.S. and its partners have also said they would go after the Russian military and Belarusian individuals and entities for their support for the invasion.
Also last month, the United States, Canada and European allies announced additional sanctions that would remove "selected" Russian banks from the SWIFT financial system.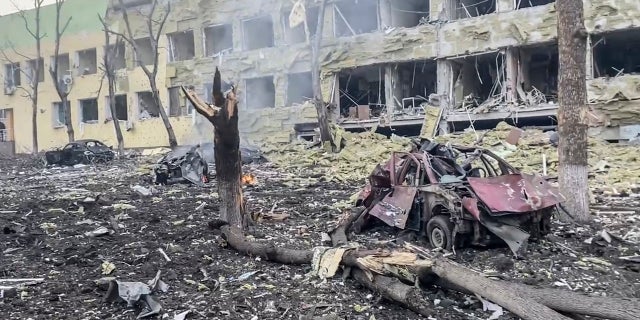 This image taken from video issued by Mariupol City Council shows the aftermath of Mariupol Hospital after an attack, in Mariupol, Ukraine, Wednesday, March 9, 2022. 
(Mariupol City Council)
SWIFT provides messaging services to banks in over 200 countries and is controlled by the central banks of the G-10, including Belgium, Canada, France, Germany, Italy, Japan, the Netherlands, the United Kingdom, the United States, Switzerland and Sweden.
The sanction has been used by the EU in Iran in 2012 and in 2018.
Biden is set to travel to Brussels, Belgium, next week for a NATO summit to "discuss the ongoing deterrence and defense efforts in response to Russia's unprovoked and unjustified attack on Ukraine as well as to reaffirm our ironclad commitment to our NATO allies."
Biden is also set to join a scheduled European Council Summit to discuss "shared concerns about Ukraine, including transatlantic efforts to impose economic costs on Russia, provide humanitarian support to those effected by the violence, and to address other challenges related to the conflict."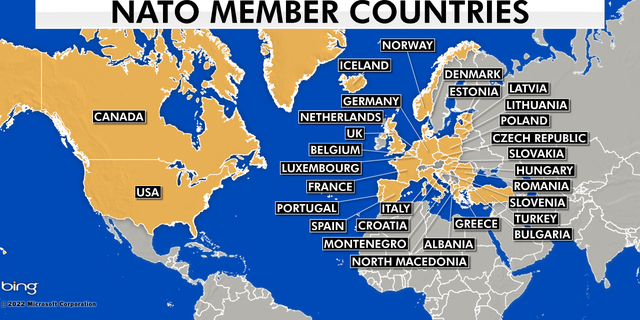 NATO member countries
(Fox News)
The White House said Biden's "goal" is "to meet in person, face to face, with his European counterparts and talk about and assess where we are at this point in the conflict."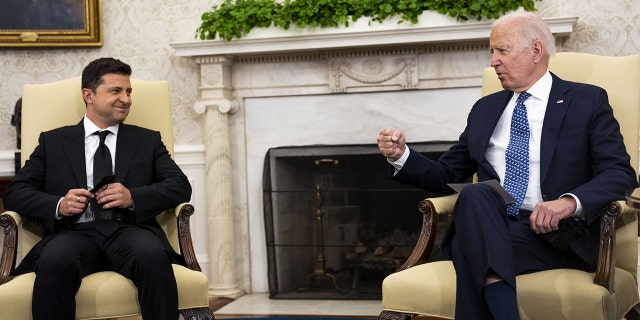 U.S. President Biden and Ukraine President Volodymyr Zelenskyy meet in the Oval Office of the White House in Washington, Sept. 1, 2021. 
(Doug Mills/The New York Times/Bloomberg via Getty Images)
"The president is a big believer in face-to-face diplomacy," Psaki said, adding that the summit is "an opportunity to do exactly that."
As for whether Biden will meet with Zelenskyy during his trip to Europe, Psaki said the White House is "still finalizing the trip at this point in time."
"The real focus right now is to meet with NATO partners in Brussels," Psaki said. "If there are additional steps, we'll share all those details with all of you."
Fox News' Michael Lee and Pat Ward contributed to this report.
Source: Read Full Article