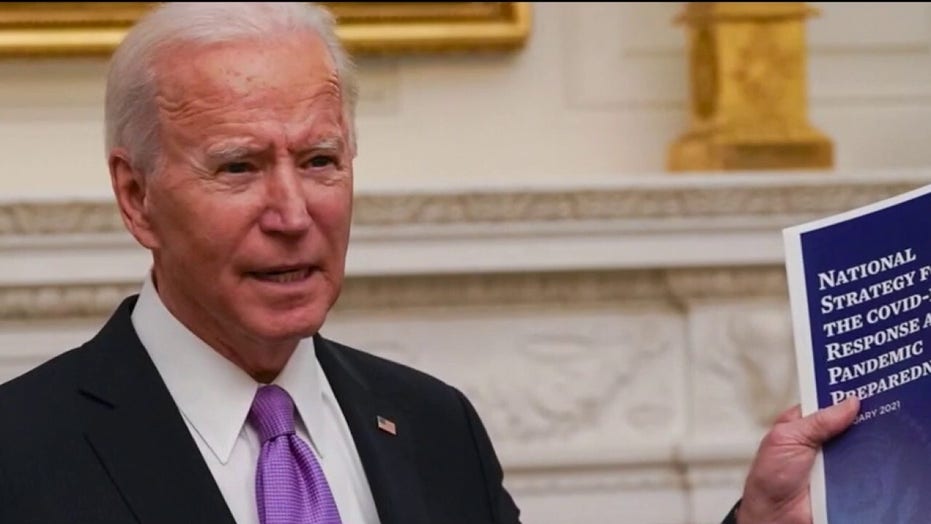 Biden places focus on COVID-19 during first full day in office
FOX News White House correspondent Peter Doocy joins 'Special Report' with the latest from Washington.
President Joe Biden has proposed extending a nuclear arms treaty with Russia before it expires next month, White House press secretary Jen Psaki said during a Thursday press conference.
Russia has said for some time that it would welcome an extension of the New START treaty, which limits the number of U.S. and Russian strategic nuclear weapons. The Trump administration made a late bid to extend the treaty, but its conditions were rejected by Russia.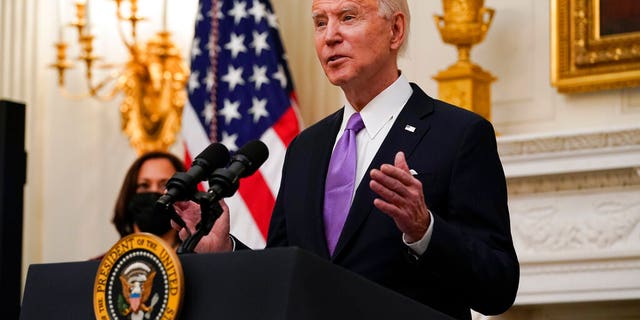 President Joe Biden speaks about the coronavirus, accompanied by Vice President Kamala Harris, in the State Dinning Room of the White House, Thursday, Jan. 21, 2021, in Washington. 
(AP)
Psaki noted that a five-year extension is permitted by the treaty and it "makes even more sense when the relationship with Russia is adversarial as it is at this time."
She called the treaty "an anchor of strategic stability between our two countries."
Despite the extension proposal, Psaki said Biden was committed to holding Russia accountable for its alleged involvement in the Solar Winds hacking event, 2020 election interference, the chemical poisoning of opposition figure Alexei Navalny and the widely reported allegations that Russia may have offered bounties to the Taliban to kill American soldiers in Afghanistan.
The Pentagon's chief spokesman, John Kirby, said allowing the treaty to lapse would have weakened U.S. understanding of Russia's nuclear forces.
"Extending the treaty's limitations on stockpiles of strategic nuclear weapons until 2026 allows time and space for our two nations to explore new verifiable arms control arrangements that could further reduce risks to Americans," he said. "And the department stands ready to support our colleagues in the State Department as they effect this extension and explore those new arrangements."
Biden's national security adviser Jake Sullivan was to convey the extension proposal to Russia's ambassador to the U.S., Anatoly Antonov, on Thursday afternoon, according to one official familiar with the matter.
NATO Secretary-General Jens Stoltenberg earlier Thursday called on the United States and Russia to extend the treaty and to later broaden it.
"We should not end up in a situation with no limitation on nuclear warheads, and New START will expire within days," Stoltenberg told reporters in Brussels.
Stoltenberg underlined that "an extension of the New START is not the end, it's the beginning of our efforts to further strengthen arms control."
The treaty, signed in 2010 by President Barack Obama and Russian President Dmitry Medvedev, limits each country to no more than 1,550 deployed nuclear warheads.
Obama won Senate ratification of the treaty with a commitment to move ahead with a vast and enormously expensive recapitalization of the U.S. nuclear force. That program is likely to be further scrutinized by the Biden administration. At a projected cost exceeding $1 trillion over the next several decades, the plan is to replace each of the three "legs" of the U.S. nuclear triad — ballistic missile submarines, nuclear-capable bomber aircraft and land-based nuclear missiles.
President Donald Trump had been highly critical of New START, asserting that it put the United States at a disadvantage. His administration waited until last year to engage Russia in substantive talks on the treaty's future.
Biden, who indicated during the campaign that he favored extending New START, is not proposing any alterations, the U.S. official said. Thus, it appeared likely that Moscow would be amenable to an extension.
The Associated Press contributed to this report.
Source: Read Full Article