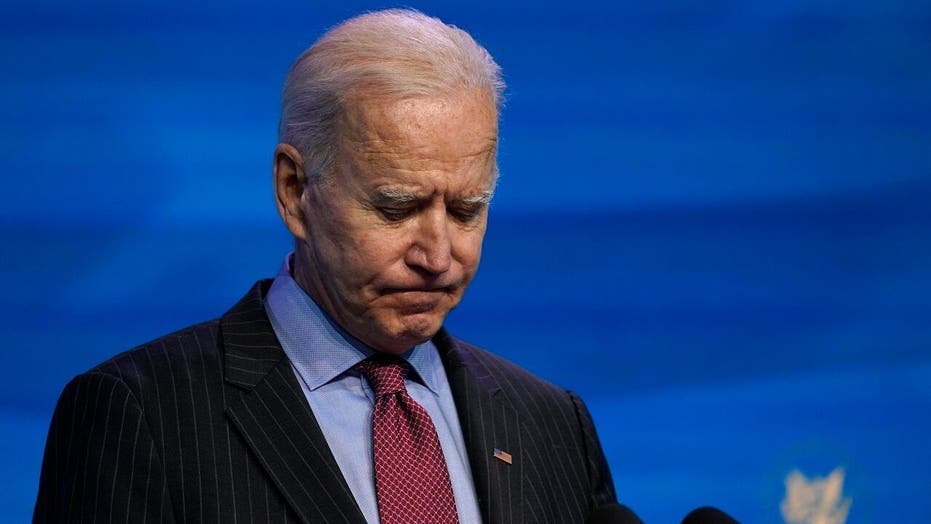 'The Five': Biden doubles down on failing agenda
'The Five' discuss yet another division in America: vaccinated vs. the unvaxxed
President Biden pledged to unite a country ravaged by the coronavirus pandemic, but his leadership has only further divided Americans by pinning vaccinated citizens against those who choose to forego the vaccine, Fox News host Jesse Watters said Tuesday.
Watters, on "The Five" highlighted the number of New York police officers and firefighters who are threatening to quit in protest of the Biden administration's wide-reaching vaccine mandate that continues to garner backlash.
Co-host Dana Perino questioned whether it is "the best time" for the administration to implement the mandate, noting that it will result in a significantly reduced police force and fire squad ahead of the holidays.
Watters agreed, and criticized Biden for failing to reconsider the policy amid major fallout.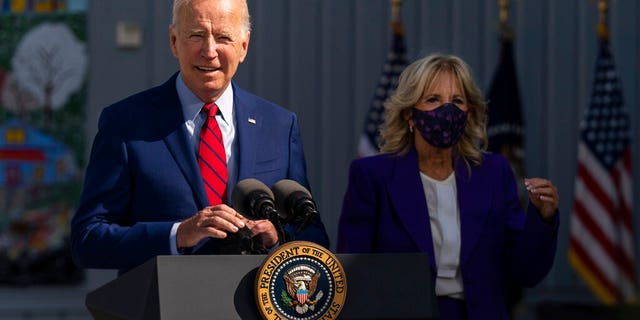 President Joe Biden, with first lady Jill Biden, speaks during a visit at Brookland Middle School in northeast Washington, Friday, Sept. 10, 2021. Biden has encouraged every school district to promote vaccines, including with on-site clinics, to protect students as they return to school amid a resurgence of the coronavirus. (AP Photo/Manuel Balce Ceneta)
"Biden is going to ram his head against the wall, because the man is just not flexible enough to deal with a situation like this," Watters said.
"Great leaders are flexible, they're dynamic. If you have a general, he might change his strategy when it runs into resistance in the battlefield," the host continued. "A quarterback, he might just check down and just…pick up the first down. That's what good leaders do. Biden does not do that."
Watters went on, "He's facing labor shortages, inflation, the crime wave, retirements, and all he is doing is staring straight ahead. You can't do that. There's off ramps. You have religious exemptions, you can say 'we will delay the implementation,' you can say 'work with us, we will pay for testing….'"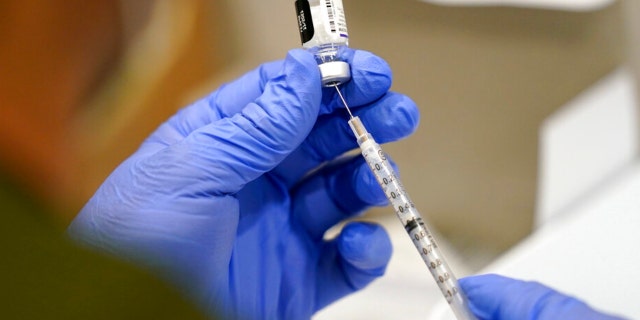 FILE – In this Oct. 5, 2021, file photo a healthcare worker fills a syringe with the Pfizer COVID-19 vaccine at Jackson Memorial Hospital in Miami. President Joe Biden's most aggressive move yet to combat the COVID-19 pandemic is almost ready to see the light of day. The government is close to publishing the details of a new vaccination-or-testing rule covering more than 80 million Americans at companies with 100 or more workers. (AP Photo/Lynne Sladky, File)
Watters wondered whether it would be more economical for the federal government to pay for daily testing than it would be to hand out unemployment insurance to those left without jobs over their refusal to get the vaccine.
Watters also highlighted all the tax revenue that will be lost when people leave their jobs.
"A lot of the American people feel like you are supposed to unite us against the pandemic," Watters concluded, "and instead of doing that, you are dividing us against the unvaxxed."
Source: Read Full Article