video
CCP-linked Silicon Valley Bank depositors could be 'made whole' by US: Yellen
Treasury Secretary Janet Yellen said that, under the current agreement, Chinese Communist Party-linked (CCP) Silicon Valley Bank depositors could be 'made whole' by the U.S. banking system.
President Biden spoke out in favor of tougher penalties for bank executives who drive institutions to failure through mismanagement.
Biden released the statement Friday afternoon, reflecting on the collapse of Silicon Valley Bank and Signature Bank.
"This week, we took decisive action to stabilize the banking system without putting taxpayer dollars at risk," Biden said. "That action was necessary to protect jobs and small businesses, and no losses will be borne by the taxpayers. Our banking system is more resilient and stable today because of the actions we took."
SILICON VALLEY BANK'S HOLDING COMPANY FILES FOR CHAPTER 11 BANKRUPTCY PROTECTION IN NY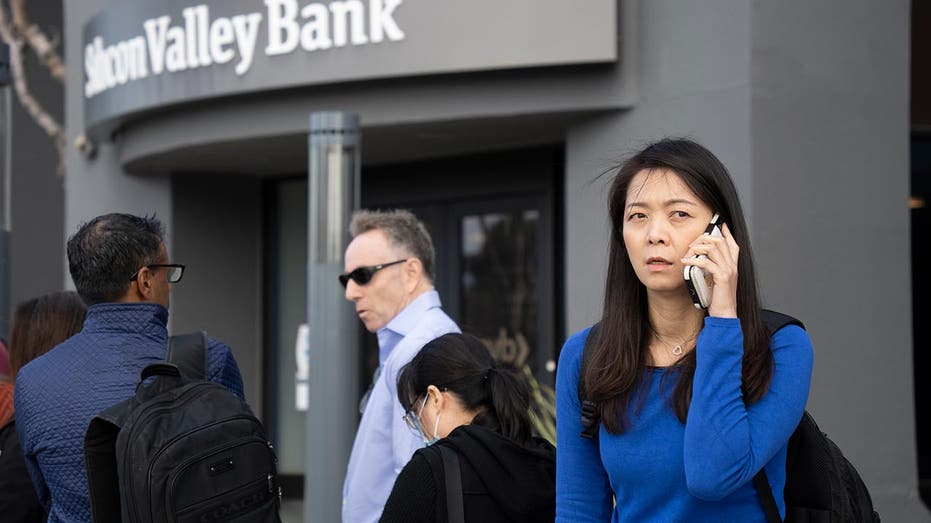 People line up outside the headquarters of Silicon Valley Bank to withdraw their funds March 13, 2023, in Santa Clara, Calif. (Liu Guanguan/China News Service/VCG via Getty Images / Getty Images)

The president stressed that U.S. citizens should not fear for their savings, assuring that the U.S. banking sector as a whole is stable.

He then turned his attention to the repercussions of the mismanagement that led to the California bank's financial collapse.
Ticker
Security
Last
Change
Change %
SIVB
SVB FINANCIAL GROUP
106.04
-161.79
-60.41%
"No one is above the law – and strengthening accountability is an important deterrent to prevent mismanagement in the future. The law limits the administration's authority to hold executives responsible," the president said.

HOW FIRST REPUBLIC RESCUE, SILICON VALLEY BANK COULD COST MAIN STREET AMERICA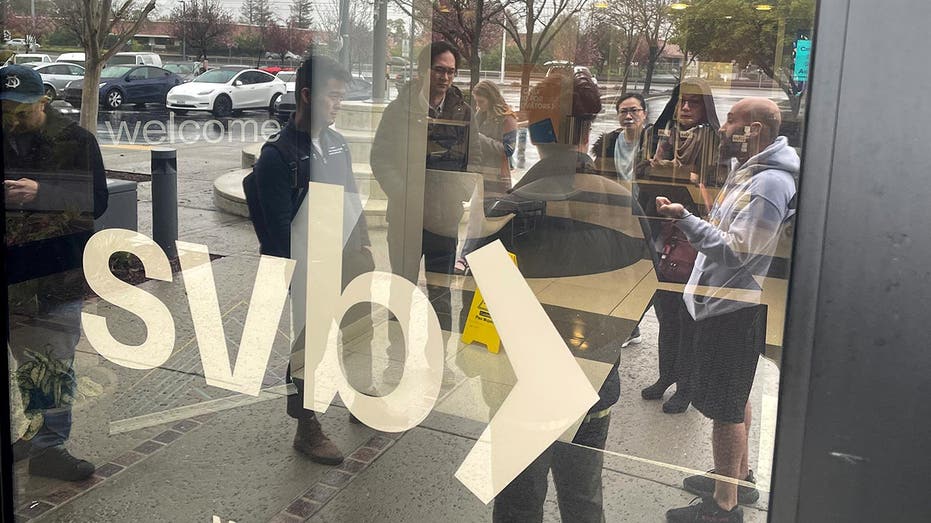 People line up outside the shuttered Silicon Valley Bank headquarters March 10, 2023, in Santa Clara, California. (Justin Sullivan/Getty Images / Getty Images)

Silicon Valley Bank, which mainly served tech startups, was the nation's 16th largest bank when it was shut down March 10 by California regulators. The FDIC took over the bank's operations following a liquidity crisis as depositors rushed to withdraw their money amid a panic over the bank's health. 

It was the second-largest bank failure in U.S. history and the largest since Washington Mutual went under in 2008. 

"When banks fail due to mismanagement and excessive risk taking, it should be easier for regulators to claw back compensation from executives, to impose civil penalties, and to ban executives from working in the banking industry again," Biden added.

CCP-LINKED SILICON VALLEY BANK DEPOSITORS COULD BE 'MADE WHOLE' BY US: YELLEN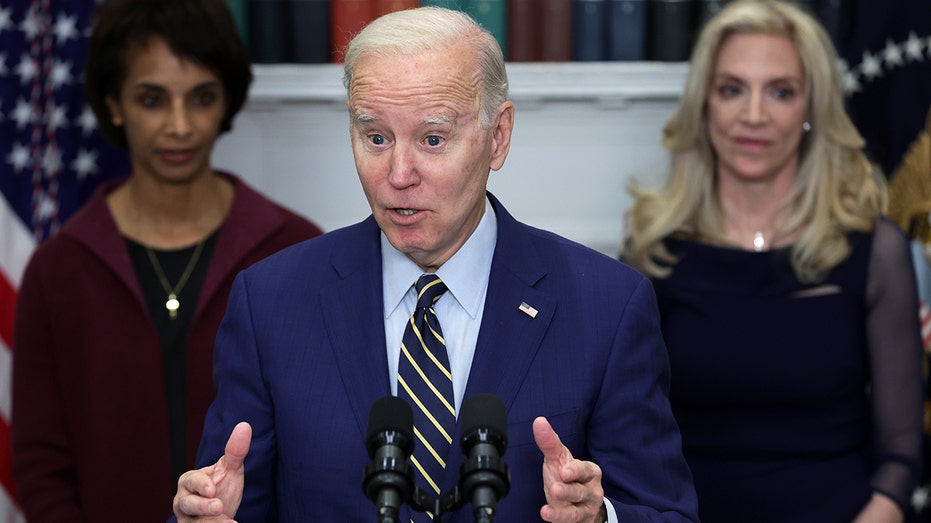 President Biden delivers remarks on the February jobs report as Chair of the Council of Economic Advisers Cecilia Rouse, left, and Assistant to the President and Director of the National Economic Council Lael Brainard, listen in the Roosevelt Room at (Alex Wong/Getty Images / Getty Images)

Days before its collapse, SVB disclosed huge losses, which sent its stock price cratering 60%. The vast majority of SVB's customers had deposits in excess of the FDIC's $250,000 protection threshold, which led to fears that hundreds of startup companies might lose access to their money and be unable to make payroll.

"Congress must act to impose tougher penalties for senior bank executives whose mismanagement contributed to their institutions' failing," Biden concluded.

The Treasury Department, the Federal Reserve and the FDIC announced a plan Sunday to ensure SVB customers would be able to access all of their funds — even beyond the $250,000 limit. 

CLICK HERE TO GET THE FOX BUSINESS APP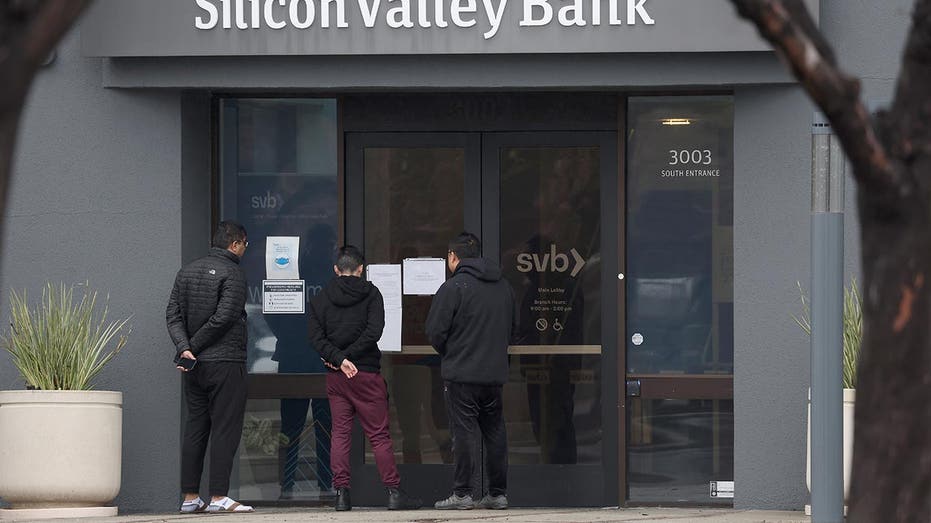 Employees stand outside the shuttered Silicon Valley Bank headquarters March 10, 2023, in Santa Clara, Calif. (Justin Sullivan/Getty Images / Getty Images)

Critics have called the move a "bailout," but government officials have disputed that characterization, and financial analysts have noted that depositors, not SVB itself, are the ones benefiting from the government's action.

FOX Business' Chris Pandolfo contributed to this report.

Source: Read Full Article