It's been a week since George Floyd was killed, and the protests have yet to stop because it isn't only about George Floyd—it's about the recent deaths of Ahmaud Arbery and Breonna Taylor. It's about the October 2019 killing of Brianna Hill. It's about Christian Cooper having the cops called on him by a white woman for simply bird-watching in Central Park. And it needs to stop.
As a result of racial injustices, Americans have taken to the streets across the country to let their voices be heard in major cities like Minneapolis, New York, Los Angeles, Atlanta, Anchorage, Salt Lake City, and Las Vegas. Most protests have been peaceful, while some have devolved into looting and rubber bullet shootings from police in riot gear. (Friendly reminder: There was little pushback from police officers when rioters protested the coronavirus stay-at-home order.)
With the sheer amount of info circulating right now, it's easy to mix up fact and fiction, so here is a list of prominent rumors about the George Floyd and Black Lives Matter protests, debunked, fact-checked, and explained.
No, protestors did not steal a train from a Minneapolis mall.
A Twitter user posted a pic of protestors who allegedly stole a train from a Minneapolis mall, but this just isn't true—the train was never stolen, and the picture is from Ferguson protests in 2014.
Minneapolis trippin fr they stole the mall train😭😭😭😭😭😭 pic.twitter.com/EJyvu092BZ
TikTok says it is *not* targeting Black Lives Matter hashtags.
Some TikTok users reported that hashtags about the Black Lives Matter movement and protests were blocked on the app, but TikTok says general hashtag blocking was a bug that affected "words at random."
Since then, the glitches have been fixed and both hashtags are searchable.
Tiktok blocked all black lives matter hashtags, anything to do with George Floyd. Wow. Guess I gotta delete the app!
lol saying to support black creators is against the guidelines now? also i would really love an explanation on why you have shadowbanned half of your black creators in the past 48hrs? what's good @tiktok_us pic.twitter.com/mFmuufTTY0
We are aware of an issue that is impacting the hashtag view counts displayed at the upload stage. This appears to affect words at random, including terms like #cat and #hello. Our team is investigating and working quickly to address the issue.
There have been missing persons accounts that have been proven to be false.
Be mindful about consuming your news via social media only—some Twitter accounts have posted untrue accounts of missing relatives (and are thankfully being called out).
An account with 10 followers tweeted about a missing uncle in the middle of the strife going on in Minneapolis, US, and was retweeted 14.5k times. This is a common strategy to spread misinformation – Anonymous account + image or video + emotional story during a tense situation.
BuzzFeed News investigated one such tweet about a poster's alleged missing brother after it got more than 30,000 retweets, and the 16-year-old running the account admitted they made it up and used a pic of a Black man they don't know.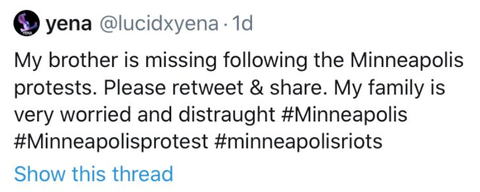 "I apologize to everyone that I potentially worried or caused any work to help find my 'missing brother' and that I never intended it to get such a wide range of people finding it from the start of my tweet," they said.
Protestors did not set fire to a Walmart in Minneapolis.
Protestors in Minneapolis did not set fire to a Walmart, as footage from this past weekend suggests. The building shown in the circulating video is an apartment complex in the city that was targeted by vandalism, but right now, it's unclear if there is any connection to the protests.
A disturbing viral video showing a police officer pinning down a young Black boy is from last month, not from the protests.
In response to a "fake news" tweet by Donald Trump, a user attached an extremely disturbing video of a cop pinning down a young Black child with the hashtags #BlackLivesMatter and #GeorgeFloydProtests.
This video is from California and was taken last month—the officer was detaining the boy for possession of a cigar. The Sacramento County Sheriff's Department and the Rancho Cordova Police Department said they are investigating the officer's use of force, and police chief Kate Adams said the officer has been temporarily reassigned to a role outside the department, but no other public action has been taken.
No, a TV reporter was not creating fake gunshot noises to incite chaos.
A TV reporter in Minneapolis was accused of playing fake gunshot noises on his cell phone during a series of peaceful protests and was confronted for it in a viral Twitter video, but according to the station, this isn't exactly the full story.
According to a statement issued by the station's news director, Kirk Varner, the reporter who filmed the peaceful protest heard someone from the crowds firing shots into the air.
"Wanting to confirm the sound he heard, he went to play back the video on his cell phone, which indeed shows an individual shooting into the air," Varner said. An upset group of people then approached the reporter after hearing the audio.
These "reports" sabotaging the protest making look like the protesters are armed by playing fake gunshot sounds pic.twitter.com/TT3SPArjS3
The reporter's footage corroborates this story:
Makeup does not protect against facial recognition tech.
There's a rumor that makeup can help disguise protestors' faces from surveillance, but that doesn't seem to check out. Be mindful that cosmetics don't stop facial recognition tech from working.
Detected 3 out of 4 with @faceplusplus. That's just a still- not a video stream or enrolment station. CV Dazzle is performance art, it hasn't worked in years. https://t.co/ICJHCvf7Qh pic.twitter.com/QRt2WvPQln
The Minnesota Freedom Fund does NOT take Venmo donations.
The Minnesota Freedom Fund, which pays criminal and immigration jail bonds for oppressive jailing, is warning people that Venmo users are posing as their organization to gain donations. They do not take Venmo donations and are raising up other ways to help after being overwhelmed with donations.
Hey y'all, there is a fraudulent Venmo account circulating with our name on it. At this time, the Minnesota Freedom Fund DOES NOT HAVE A VENMO. Do NOT send funds there.
You can find other ways to demand justice for Black lives and support protestors here.
There is no child militia in the United States.
Atlanta has not deployed a child militia and does not have any underage girls or boys serving in the National Guard. Personnel in Georgia's National Guard are required to be of age to serve.
Atlanta has deployed a child militia at Lenox Mall fitted with riot shields and batons. What the actual fuck is going on? pic.twitter.com/zTtmw5mDTN
Here is the video that started all the 'child soldiers' rumors
WATCH FULL: https://t.co/2RftSP1wPn pic.twitter.com/Wi8B8BD8hF
Looters did not kill a man for defending his store from them.
A graphic video of a man being beaten in Dallas started circulating on Twitter with people claiming "protestors" hit and killed him after he defended his store from looting. Dallas police, however, told BuzzFeed that this story doesn't check out. The man was not defending a storefront and confronted protestors with a machete before further violence broke out. He is alive and recovering.
"The victim went to the 2200 block of N. Lamar Street (House of Blues) carrying a machete to allegedly protect his neighborhood from protesters," a Dallas police spokesperson said in a statement. "The victim confronted protesters while holding the machete and was subsequently assaulted by the protesters. He was transported to an area hospital where he remains in stable condition. This remains an ongoing investigation."
The guy on the right of this pic isn't Derek Chauvin.
Derek Chauvin is *not* the man pictured in the photo on the right, according to Snopes—that's a man named Jonathan Riches, a Trump supporter who frequently trolls people online. (Twitter later flagged the below tweet as "manipulated media" when Jonathan's identity was confirmed.)
Here is Derek Chauvin, the racist cop who kept his knee on #GeorgeFloyd's neck, cut off his air passage and murdered him, wearing a "Make Whites Great Again" hat
pic.twitter.com/zZbevXY4nA
Keep an eye out for fake Black Lives Matter organizer email addresses.
Organizers are warning people that an email address unassociated with Black Lives Matter Atlanta is being used to lure potential protestors into unsafe situations. Watch out for fake addresses and hoaxes.
🚨🚨🚨🚨🚨 Any e-mail coming from [email protected] is NOT coming from @Mvmnt4BlkLives or allies in ATL. Please be mindful that movement is being infiltrated at the moment and people are being lured into unsafe environments. For info on the week of action in GA, follow @AJustGeorgia. pic.twitter.com/92Lk9MZQ2U
Source: Read Full Article