video
Is China's influence growing in Saudi Arabia?
Hightower Resource Advisors CEO Tracy Shuchart provides insight on the stock market and the influence of China on 'Making Money.'
Global oil giant Saudi Aramco announced Sunday it earned a record-high profit of $161.1 billion during 2022, attributing its massive jump in earrings to higher crude oil prices.
Officially known as the Saudi Arabian Oil Co., Aramco's annual report showed its year-on-year net income increased 46.5.% from the $110 billion earned in 2021.
Saudi Aramco CEO and President Amin H. Nasser said in a statement that the record financial performance was due to increased oil demand around the world.
"We also continued to focus on our long-term strategy, building both capacity and capability across the value chain with the aim of addressing energy security and sustainability," Nasser wrote.
BIDEN BLAMES RUSSIA, SAUDI ARABIA FOR RISING GAS PRICES, TAKES CREDIT FOR RECENT DIP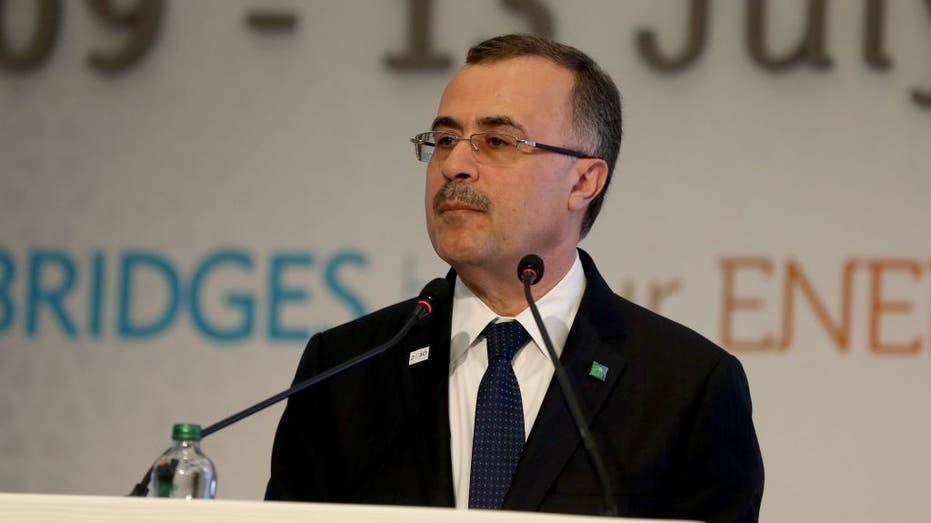 CEO of Saudi Aramco Amin H. Nasser speaks during the 22nd World Petroleum Congress, the largest meeting of oil and gas industry at Istanbul Convention Center in Istanbul, Turkey on July 10, 2017. (Islam Yakut/Anadolu Agency/Getty Images)

Nasser said the firm will spend $37.6 billion to expand its production capacity after embarking on the "largest capital spending program" in Aramco's history.

"Given that we anticipate oil and gas will remain essential for the foreseeable future, the risks of underinvestment in our industry are real — including contributing to higher energy prices," he added.

Aramco also declared a cash dividend of $19.5 billion for the fourth quarter of 2022, a 4% increase from Q3, and said it will be paid in the first quarter of this year.

According to The Associated Press, Aramco revealed a record $42.4 billion profit during Q3 following a spike in Brent Crude Oil prices when they soared to over $120 per barrel in June. The market now shows it trading around $82 a barrel.

The Institute of International Finance reported that Saudi Arabia makes an additional $40 billion a year for every $10 rise in the price of a barrel of oil.
Storage tanks are seen at the North Jiddah bulk plant, an Aramco oil facility, in Jiddah, Saudi Arabia. (AP Photo/Amr Nabil, File)

SAUDI ENERGY MINISTER SLAMS RELEASE OF OIL RESERVES AS 'MECHANISM TO MANIPULATE MARKETS'

The high prices have strained ties between the kingdom and the U.S., which is typically a security guarantor among the Gulf Arab states due to tensions with Iran. 

Before the 2022 midterm elections, Saudi Arabia claimed the Biden administration urged the kingdom to postpone a decision by OPEC+ and its allies, including Russia, to cut oil production by a month, which likely would have resulted in a delay in rising gas prices.

President Joe Biden warned the kingdom in mid-October there would be "consequences" after the OPEC+ ultimately ignored the request and announced the biggest cut in oil production since the start of the coronavirus pandemic.

The threatened consequences have yet to be seen as Saudi Arabia and Iran decided to revise tensions for the first time in seven years Friday amid a diplomatic deal with China.
Aramco's oil processing facility near Dammam in the Kingdom's Eastern Province. (AP Photo/Amr Nabil, File)

CLICK HERE TO GET THE FOX BUSINESS APP

Shares in Aramco stood at $8.74 on Riyadh's Tadawul stock exchange before it opened Sunday, which is down from a high of $11.55 a share in the last year, The AP reported.

The current price still gives Aramco a valuation of $1.9 trillion — making it the world's second-most valuable company behind Apple. 

The Saudi government still owns the vast majority of the firm's shares.

The Associated Press contributed to this report.

Source: Read Full Article