video
Jamie Dimon: 'High' gov. debt has 'potentially disastrous outcomes'
JPMorgan Chase CEO Jamie Dimon says banks will be there for customers in good times and bad.
JPMorgan Chase chief executive Jamie Dimon says America should not be fearful of China but set firm guardrails in dealing with the rival nation, cautioning that severing business ties would not help U.S. consumers.
Dimon downplayed the perceived threat in an interview with FOX Business' Maria Bartiromo, noting that U.S. GDP per person dwarfs China's. "We have all the food, water and energy we need," he told the "Mornings with Maria" host. "They don't."
JPMorgan CEO Jamie Dimon looks on during the inauguration the new French headquarters of JPMorgan on June 29, 2021, in Paris.  (AP Photo/Michel Euler, Pool, File / AP Newsroom)

The CEO said that while China has lifted many of its citizens out of poverty in recent decades, "We shouldn't be afraid. We should just negotiate security, tax, trade – all the things that make sense for us – and we should do it directly, forthrightly, toughly."

JAMIE DIMON SOUNDS ALARM ON RISING US DEBT HAVING 'POTENTIALLY DISASTROUS OUTCOMES'

Dimon said China is getting ready to emerge from a few years of very slow growth as it opens up from COVID-19 lockdowns, and is trying to attract more foreign direct investment. He expects those moves will be beneficial to the American consumer.
Chinese President Xi Jinping is seen at the end of the Chinese Communist Party's 20th Party Congress on a giant screen a commercial district of Hangzhou in eastern China's Zhejiang province on Sunday, Oct 23, 2022.  (Chinatopix via AP / AP Newsroom)

The banking titan told Bartiromo that he does not see U.S. banks pulling out of China in the near future, saying the U.S. government sets foreign policy and American business wants to compete, "so we want to make sure whatever trade negotiations are advantageous to American business."

BLOCKADE OF TAIWAN BY CHINA COULD COST WORLD ECONOMY OVER $2 TRILLION, REPORT FINDS

He pointed to trade deals like the Trans-Pacific Partnership (TPP) borne of a big trade network, saying that whether or not China is involved in future deals, "if China cherry-picks these other nations, that's going to be bad for American business."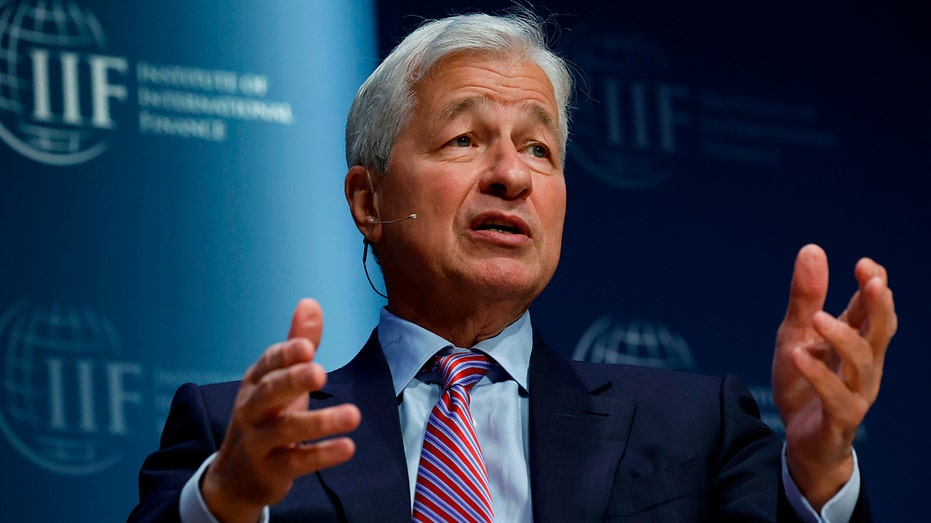 Jamie Dimon, chairman and chief executive officer of JPMorgan Chase & Co., speaks during the Institute of International Finance (IIF) annual membership meeting in Washington, D.C., on Thursday, Oct. 13, 2022.  (Ting Shen/Bloomberg via Getty Images / Getty Images)

GET FOX BUSINESS ON THE GO BY CLICKING HERE

"Yes, there are a lot of challenges in a lot of countries [we] do business in," Dimon said, adding, "You know, leaving the country isn't really the best thing for the future of America."

Source: Read Full Article