video
Relentless inflation and surging grocery prices have these Americans on edge
Americans shared their thoughts on surging grocery store prices, with some people in Texas and Washington, D.C., relaying dismay at their latest supermarket bill.
Higher-priced foods helped drive Kroger's upbeat earnings and annual forecast beyond Wall Street's expectations on Thursday.
The U.S. grocery store also benefited from tighter cost control.
"Several big-name retailers have been cautious in their outlook over the last few weeks, unsure of how more rate hikes might impact everyday budgets, but Kroger's top team is more upbeat. The supermarket has enjoyed a surge in sales and believes it will continue to benefit from changing shopping habits whilst at the same time being able to control costs because of substantial changes to its supply chain," said Danni Hewson, AJ Bell's head of financial analysis.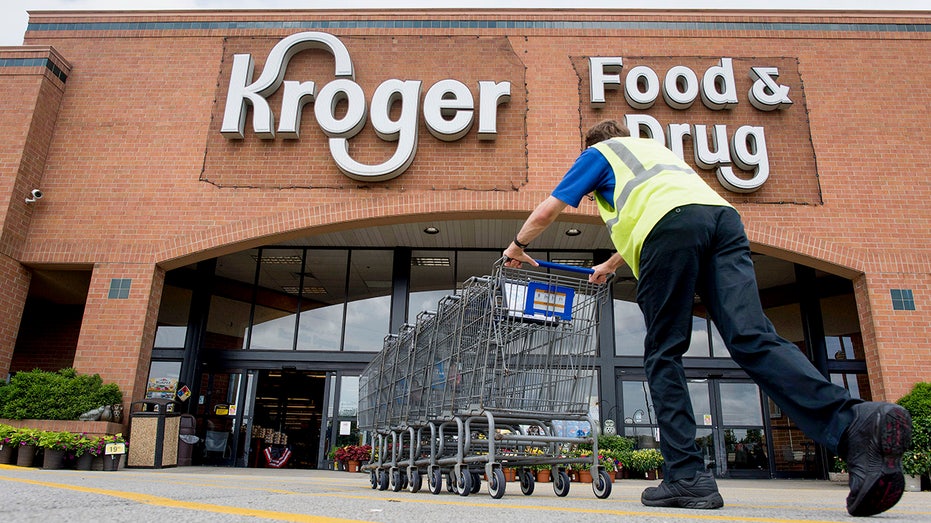 An employee pushes shopping carts towards a Kroger Co. store in Peoria, Illinois, U.S., on Tuesday, June 16, 201 (Daniel Acker/Bloomberg via Getty Images / Getty Images)

The supermarket chain's outlook took experts by surprise after a string of profit warnings from major retailers including Walmart and Target raised concerns about the retail sector's health in 2023. Kroger forecast adjusted per-share earnings between $4.45 and $4.60 for fiscal 2023, above Refinitiv estimates of $4.20.

Same-store sales growth, excluding fuel, is expected to be 1% to 2% in fiscal 2023, below the average estimate of a 2.23% increase.

"We expect to grow revenue by continuing to invest in our customers through competitive pricing and personalization, fresh products, and a better shopping experience," said CFO Gary Millerchip. "In 2023, we expect to build on this momentum and deliver revenue and EPS growth on top of the record results achieved over the past three years."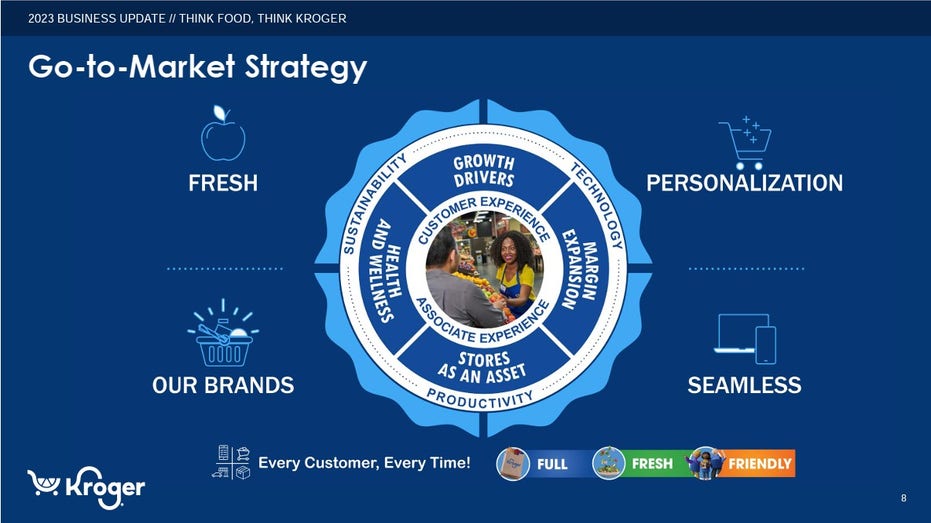 Kroger Q4 2022 investor presentation (Kroger Co)

KROGER CEO SAYS HALF ITS CUSTOMERS ARE UNDER FINANCIAL STRAIN

Millerchip also said the company will increase associate wages. The company plans to invest $770 million more this year to raise hourly wages and improve healthcare benefits for its employee. It had over the past year raised its average hourly wage to $18. 

"Keeping hold of employees often means upping their wages and whilst US consumers are trading down and hunting out bargains and own label brands, they are still shopping," said AJ Bell's Hewson.

INFLATION STILL OUTSTRIPPING WAGES IN MOST US CITIES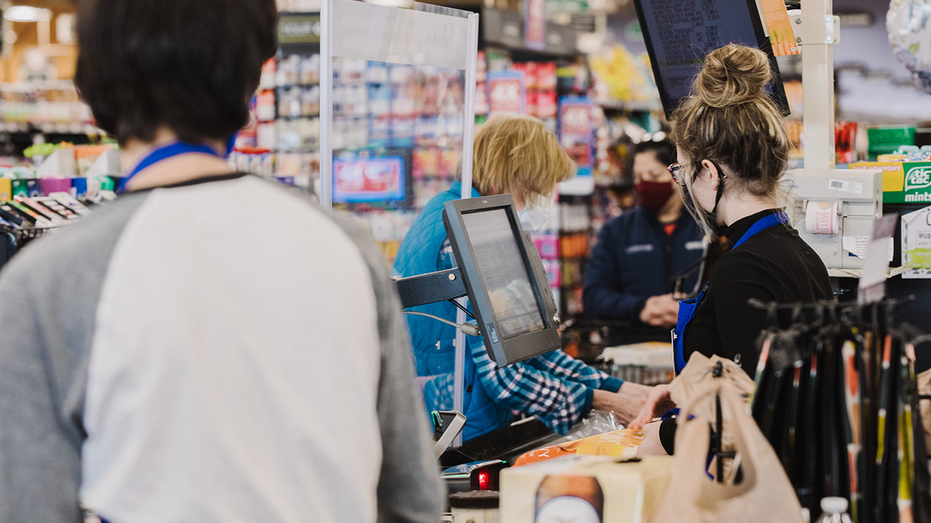 Kroger shoppers grapple with higher priced foods amid inflation.  (Getty Images)

"We will fund these investments through product mix improvements, cost-saving initiatives, and growth in our alternative profit businesses," Millerchip added. 

Kroger has been streamlining its supply chain and sourcing products closer to its distribution centers to drive costs lower, while the usage of automation and support from its more profitable personal finance and media divisions have further boosted earnings.

Kroger's fourth quarter sales grew to $34.8 billion compared to $33.0 billion for the same period last year. Excluding fuel, sales increased by 5.9%. Operating profit fell 14% to $826 million year-over-year while earnings per share (EPS) came in at 62 cents, down from 75 cents a year earlier.

For the year, total company sales were $148.3 billion, compared to $137.9 billion for the same period last year. Excluding fuel, sales increased by 5.2% compared to the same period last year. Operating profit was $4.1 billion, or $3.06 per share, compared to $3.5 billion, or $2.17 per share.
Merger with Albertsons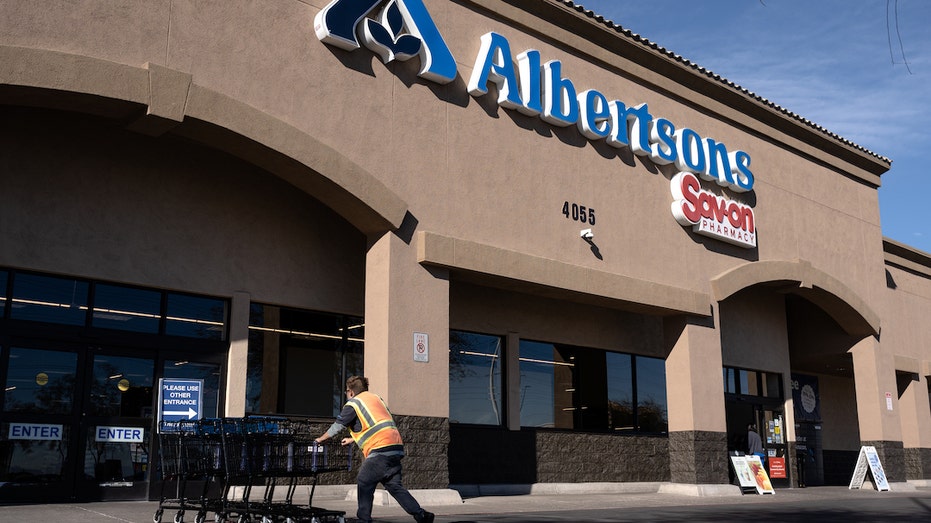 Worker pushes shopping carts outside an Albertsons supermarket in Las Vegas, Nevada, Friday, Jan. 7, 2022. (Bridget Bennett/Bloomberg via Getty Images / Getty Images)

Kroger said it is aiming to close its $24.6 billion merger with Albertsons in early 2024. The companies have launched integration planning efforts with the goal of preparing for a seamless integration that can be executed on the first day, post transaction close. 

The combination is expected to achieve $1 billion of annual run-rate synergies net of divestitures within first four years post-close; with approximately 50% achieved within first two years post close.

The expected average total shareholder return is expected to be well above Kroger's standalone model of 8-11% in the first four years following close.

GET FOX BUSINESS ON THE GO BY CLICKING HERE

Reuters contributed to this report.

Kroger Co
Ticker
Security
Last
Change
Change %
KR
THE KROGER CO.
43.38
+0.24
+0.56%
Source: Read Full Article