video
Oil market experiencing the 'chilling effect' of Biden's energy policies: Canary CEO Dan Eberhart
Canary CEO Dan Eberhart discusses the rise in oil and gas prices across the U.S. and the impact of Biden's energy agenda on 'Varney & Co.'
Oil prices spiked on Friday after Russia announced that it would slash its crude output in March by 5%. 
Russia's deputy prime minister, Alexander Novak, announced on Friday that Moscow will reduce its crude production by 500,000 barrels a day next month following a wave of Western sanctions imposed on its oil trade. 
"We will not sell oil to those who directly or indirectly adhere to the principles of the price ceiling," Novak said in a statement. "In relation to this, Russia will voluntarily reduce production by 500,000 barrels per day in March. This will contribute to the restoration of market relations."
INFLATION HAS A 75% CHANCE OF REBOUNDING OR REMAINING HIGH, TOP ECONOMIST WARNS
Russian President Vladimir Putin attends a meeting with young award-winning culture professionals via videoconference in Moscow, Russia, on March 25, 2022.  (Mikhail Klimentyev, Sputnik, Kremlin Pool Photo via AP, file / AP Images)

Brent crude prices surged shortly after the announcement, hitting $85.21 a barrel. Prices later eased to $84.77 a barrel – up about 1.75%. 

The sanctions against Russian oil include a December agreement by the European Union to cap prices at $60 a barrel and a partial ban on seaborne crude imports. Western nations are seeking to drain President Vladimir Putin's war chest as the Kremlin's war in Ukraine drags into its second year. The penalties caused Moscow's oil and gas revenue to tumble by about 50%. 

Before the war began last year, Europe was the biggest purchaser of Russian crude, importing about 138 million tons in 2020 out of Russia's total exports of 260 million tons – or roughly 53%, according to the BP Statistical Review of World Energy. 

Russia supplies about one-quarter of Europe's oil needs and is the third-largest oil producer in the world.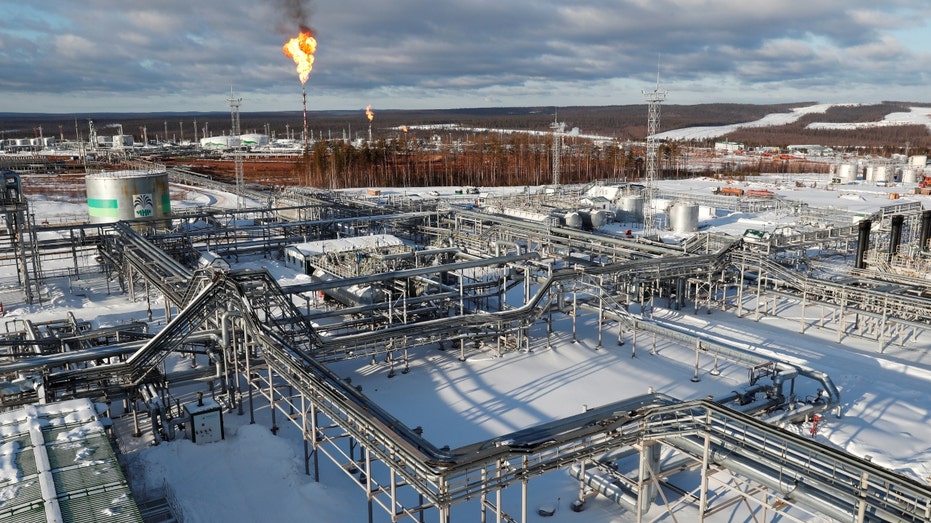 A general view shows an oil treatment plant in the Yarakta Oil Field, owned by Irkutsk Oil Company (INK), in Irkutsk Region, Russia on March 10, 2019.  (REUTERS/Vasily Fedosenko / Reuters Photos)

Still, some analysts have said the cap will have little immediate impact on the oil revenue that Moscow is currently generating. 

CLICK HERE TO READ MORE ON FOX BUSINESS

JPMorgan strategists said in July that Russia could slash as much as 5 million barrels per day in retaliation to the price gap "without excessively hurting its economic interest." In such a scenario, Brent prices could soar to a "stratospheric" price of $380 a barrel.  

"Given the high level of stress in the oil market, a cut of 3.0 million bpd could cause global Brent price to jump to $190/bbl, while the worst-case scenario, a 5 million bpd cut could drive oil price to a stratospheric $380/bbl," the analysts said.

Source: Read Full Article