What to expect from Jackson Hole meeting
Oxbow Advisors managing partner Ted Oakley argues Federal Reserve Chairman Jerome Powell won't make 'drastic' moves during the Jackson Hole meeting.
The Federal Reserve Bank of Kansas City will hold its 45th annual Economic Policy Symposium virtually this year, as opposed to in its traditional Jackson Hole setting in Wyoming. The event will kick off on Friday, Aug. 27.
The Federal Reserve Bank of Kansas City has sponsored the symposium for more than three decades, focusing on important economic issues facing the U.S. and world economies.
FOX Business takes a deep dive into one of the most anticipated wonk fests of the year. 
THE WONK ELITE AND A PANDEMIC RECOVERY
The forum brings together central bankers, private economists, policymakers, academics, government officials and news media to discuss common issues and challenges relevant to today's current market and political climate.
Important areas of discussion include monetary policy, agriculture, public policy and financial stability in global economies.
HOUSE BUDGET RESOLUTION VOTE, FED'S JACKSON HOLE MEETING, BEST BUY EARNINGS TOP WEEK AHEAD
As the world continuously faces issues surrounding the coronavirus pandemic and the new delta variant, national security and defense, severe droughts, and agriculture supply issues, the Jackson Hole Symposium is even more relevant today than the founders could have ever imagined.  
FED CHAIR POWELL'S SPEECH 
Federal Reserve Chairman Jerome Powell will give what may be one the most anticipated speeches of his career, as he is expected to provide important clues on when policymakers will begin to dial back monetary policy stimulus, also known as "tapering." 
Powell's remarks will be livestreamed at 10 a.m. EDT via the Kansas City Fed's YouTube channel at External Linkwww.youtube.com/KansasCityFed. Invited attendees will participate in an online academic symposium following the speech.
This year's symposium is taking place at a time the S&P 500 and Nasdaq Composite are sitting at record highs, with the Dow Jones Industrial Average just shy of its own record mark. 
Ticker
Security
Last
Change
Change %
I:DJI
DOW JONES AVERAGES
35405.5
+39.24
+0.11%
SP500
S&P 500
4496.19
+9.96
+0.22%
I:COMP
NASDAQ COMPOSITE INDEX
15041.858507
+22.06
+0.15%
THE KANSAS CITY FEDERAL RESERVE BANK HOSTS
The president and CEO of the Federal Reserve of Kansas City, Esther L. George, oversees a workforce of over 2,000 employees who deal with these policy issues on a daily basis. 
The Kansas City Reserve oversees seven states - western Missouri, Kansas, Nebraska, Oklahoma, Colorado, Wyoming and northern New Mexico – that play a vital role in the national monetary policy, supervision of financial institutions, as well as providing payment and financial services to depository institutions and the U.S. Treasury in these areas.
FED CHAIR POWELL: DELTA VARIANT A WILDCARD FOR ECONOMY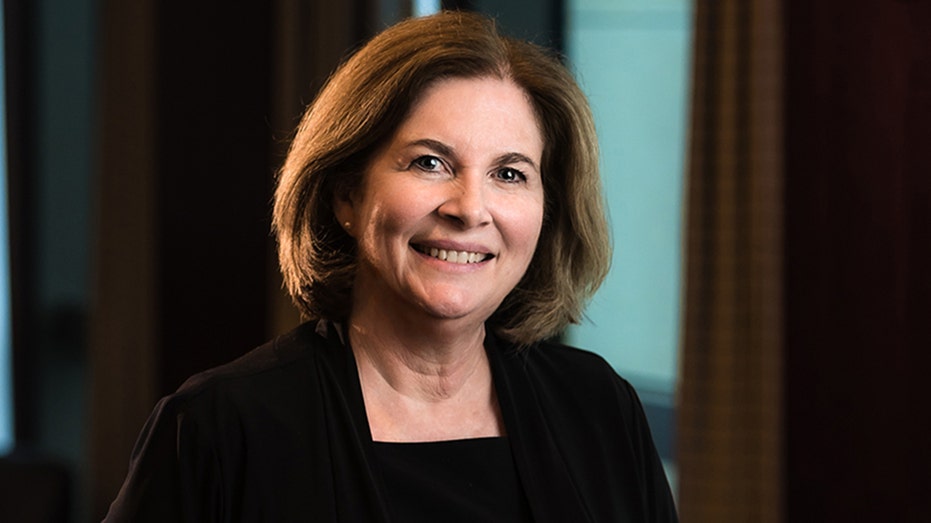 George, who joined the Fed in 1982, is a former chair of the Federal Reserve System's Community Banking Organizations Management Group and has also served as the acting director of the Federal Reserve's Division of Banking Supervision and Regulation at the Board of Governors of the Federal Reserve System in Washington, D.C. 

Additionally, the Missouri native worked in the Tenth District's banking supervision and discount window lending activities during the banking crisis of the 1980s and after 9/11.
SCENIC JACKSON HOLE WYOMING 
The symposium typically takes place in the Jackson Lake Lodge, in Jackson Hole, which features beautiful views of Jackson Lake, as well as the Grand Tetons and Mount Moran.

GET FOX BUSINESS ON THE GO BY CLICKING HERE

Jackson Hole was originally named after Davey Jackson, a mountain man who was trapped in the area during the late 1800s. "Hole" was a term used to describe a high mountain valley back in the day.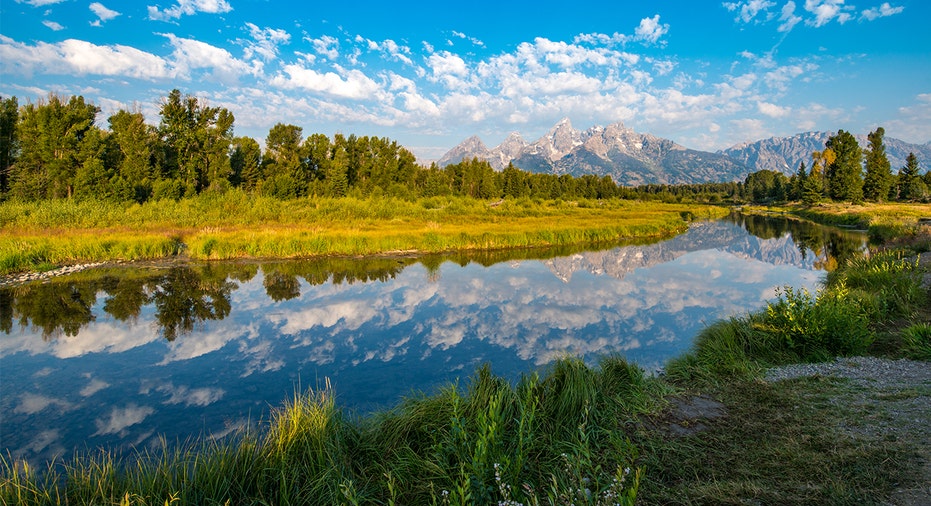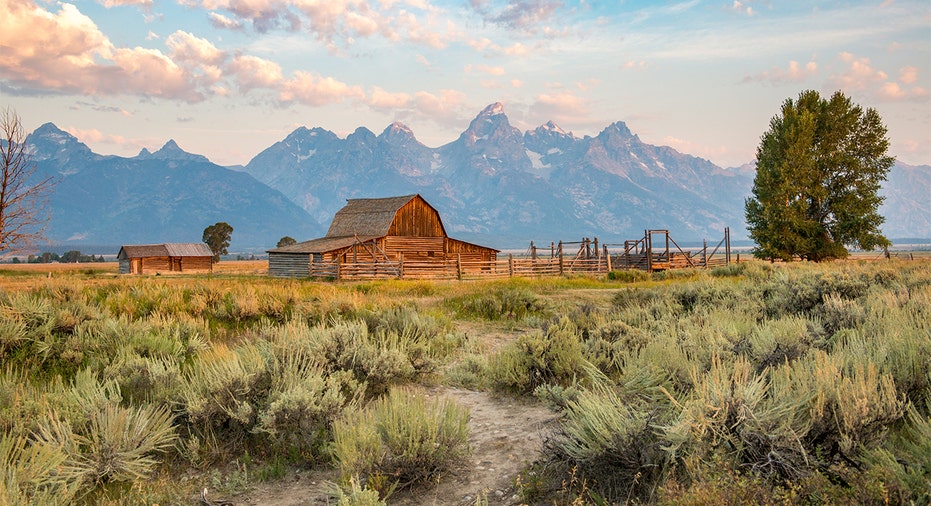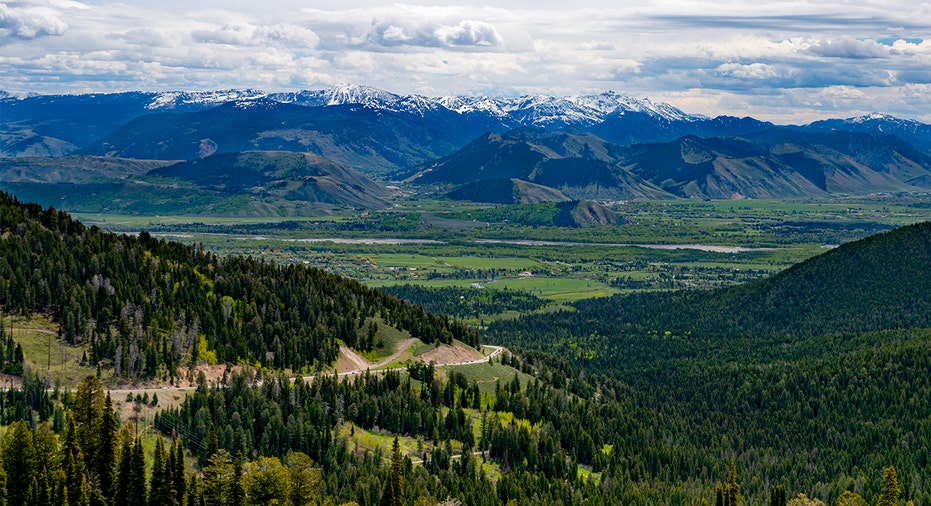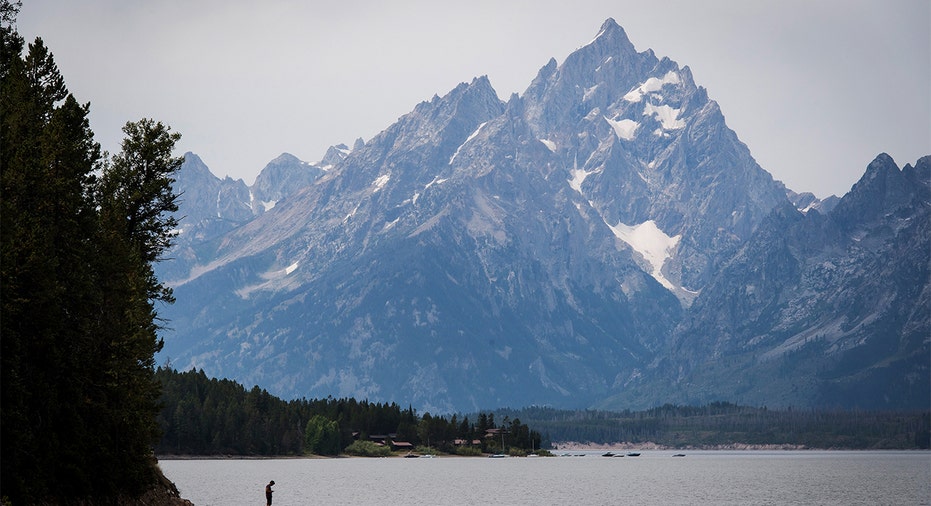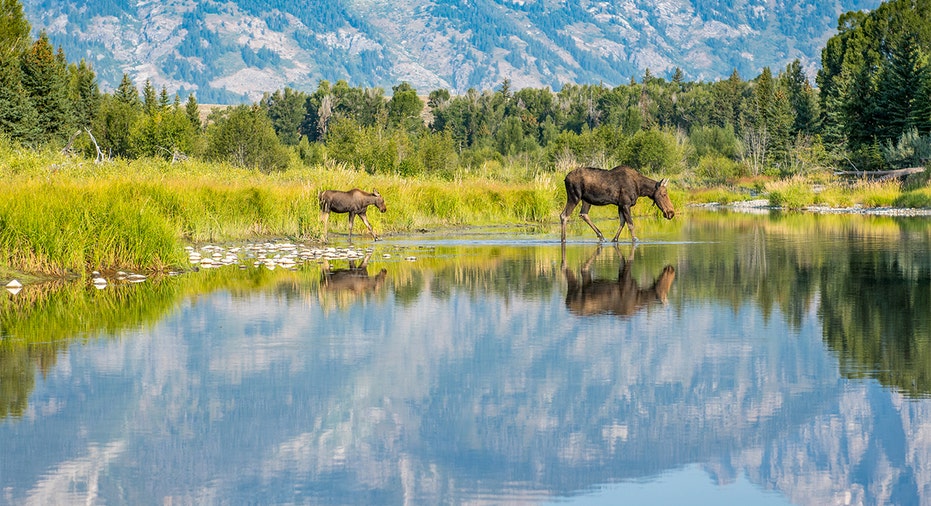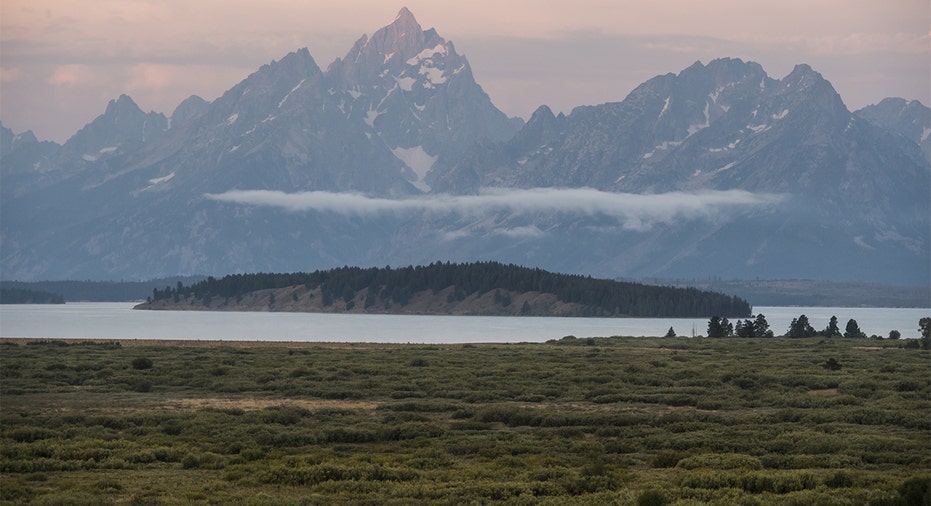 Image 1 of 6

Still waters of the Snake River reflects Teton Mountain Race and cloudy skies, Grand Tetons National Park, Teton County, Wyoming.  | Getty Images

The area is located near two National Parks, Yellowstone and Grand Teton. Created in 1872, Yellowstone was the world's first national park. Grand Teton, created in 1929, had a huge expansion in 1950 due to the efforts of John D. Rockefeller.

PATAGONIA BLACKLISTS WYOMING SKI RESORT OVER GOP SUPPORT, WILL REVERSE IF OWNERS 'PROTECT THE PLANET'

The region is known for its outdoor activities in both summer and winter. In the summer, horseback riding, fishing, hiking, kayaking, canoeing, and wildlife tours are all extremely popular, while skiing, snowboarding and snowmobiling are the common winter activities.

Jackson Hole not only welcomes human visitors, but also sees an estimated 9,000 elk in the winter. Moose, bison, deer, as well as mountain lions, grizzly bears and the bald eagle also call Jackson Hole home.

CLICK HERE TO READ MORE ON FOX BUSINESS

In 1922, Eugene Amoretti built the Amoretti Inn for visitors to vacation and enjoy the region. Later, John D. Rockefeller and his family vacationed at the Inn, and in 1930 Rockefeller purchased the land where the Inn stood. 

In 1953 Rockefeller started construction on the current lodge, now known as Jackson Lake Lodge, which opened in June 1955. The project cost an estimated six million dollars to finish, featuring both traditional and modern styles with breathtaking views.

Interestingly, the lodge doesn't have the usual accommodations, such as spas, gyms, and salons. It doesn't even have television in the guest rooms.

Gaining a National Historic Landmark designation in 2003, the Lodge maintains its National Park setting and caters to outdoor enthusiasts, focusing on the area's natural beauty rather than the usual resort luxuries.

AMERICANS ARE SPENDING MORE MONEY THAN EVER ON SUPER LUXE VACATIONS

The symposium takes place in one of the most beautiful and historical regions in America, offering participants the opportunity to step away from day-to-day pressures and focus on collaborating in a natural, breathtaking setting.

Source: Read Full Article