Under the plan, there will be 151 private trains covering 109 routes which may entail investments worth Rs 30,000 crore.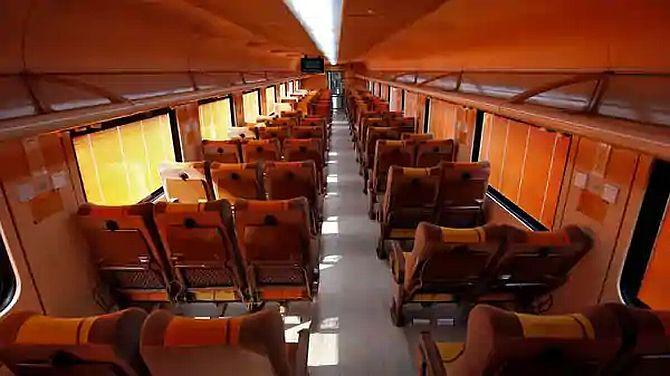 On May 13, 2019, when the Narendra Modi government took charge for a second term, moving ahead with the proposal of running private trains was one of the key initiatives of its 100-day agenda.
Now, after 13 months, the Ministry of Railways has signalled a start by floating a Request for Quotation to run the country's first private train, tentatively by April 2023.
Under the plan, there will be 151 private trains covering 109 routes which may entail investments worth Rs 30,000 crore.
Overall, this amounts to just 5 per cent of the number of trains under operation.
That apart, none of the physical operations and infrastructure – including safety-related operations – will be handled by the private players.
That means, locomotives, coaches, loco pilots and security personnel will be supplied by the Indian Railways.
Private players will be responsible for on-board services including ticketing, catering and housekeeping.
At Independence, India had about 42 rail systems, some of them in private hands.
These systems were nationalised in 1951, creating one of the world's largest rail networks.
Since then, private sector participation has been restricted to the manufacture of rolling stock and related equipment.
The current red carpet for private players began unfolding when a sectoral guideline for domestic and foreign direct investment in the Railways was issued in November 2014 that included provisions for concessionaires for standalone passenger corridors.
The broad thinking is that with the dedicated freight corridors (DFC) slated to be commissioned by 2021 and the bulk of freight operations shifted to these tracks, there will be additional headroom for passenger services along the existing tracks.
"There is definitely an additional demand. The launch of these private trains will ensure that this demand is met," says V K Yadav, Chairman of the Railway Board.
The Railways indicate that almost 88.5 million of waitlisted passengers cannot be accommodated on trains across the country.
In addition, the number of passengers handled by the Railways is expected to increase from 8.4 billion to 13 billion by 2030 and 18 billion by 2040.
The issue, however, is how far this unfulfilled demand will be met given that the private passenger services are expected to be of a premium nature with facilities resembling those on airlines.
These private operators will have the freedom to decide fares.
They are unlikely to incur the loss of 37 paise per 10 km that the Indian Railways sustains, amounting to an annual loss of Rs 35,000-40,000 crore for the utility on passenger services alone.
The private entity will have to pay the Railways fixed haulage charges, energy charges based on actual consumption and a share in gross revenue determined through a bidding process.
Though the bids are expected to be finalised by April 2021, much depends on whether the Eastern and Western freight corridors are completed on time (Cabinet approval came as far back as 2006 and the project is still off track).
On-time performance, a key differentiator for private services, will be another issue.
The maximum speed for these private trains are pegged at 160 km/hour.
So far, only one section (Delhi-Agra) can run trains at that speed.
Such semi-high speed trains need modern track, signalling facilities and even boundary walls.
The maximum speed on the busiest routes – Delhi-Mumbai and Delhi-Kolkata – increased from 110 km/hour to 130 km/hour only in 2020, although a plan was cleared to improve the speed to 160 km/hour at an investment of Rs 15,000 crore.
This means that on-time performance will be subject to variables outside private players' control.
Yadav agrees but says, "We have already sanctioned a plan to improve the speed of trains on all our routes in the next five to ten years.
"The rest of the golden quadrilateral and diagonal will be fit for 130 km/hour very soon."
This focus on top speeds may be misplaced, as Subrat Nath, the managing director of Spanish manufacturer Talgo's India arm, points out.
The aim should be to increase the average speed, not the maximum speed, he says.
"These modern trains should run at an average speed of around 100 km/hour against around 70 km/hour by the current premium trains.
"That is where companies like Talgo will be able to add value," Nath added.
Despite the multiple constraints, private players are lining up for upcoming bidding process.
But, as with Talgo, much of the optimism comes from the expectation of spin-off benefits.
Alstom, for instance, is interested in the opportunity because "we have innovative solutions for enhanced passenger experience along with the right product expertise to address the Indian market," says Alain Spohr, Managing Director, India & South Asia – Alstom.
He adds Alstom can offer a complete range of equipment and services, from high-speed trains to integrated systems, infrastructure, signalling and digital mobility solutions.
Manufacturers in the sector says they received queries from the Tata and Adani groups, Norwegian Cruise Line, and Bharat Forge.
"Once it is implemented, I am certain that our railways will be able to deliver the same kind of facilities, cleanliness, speed and efficiency, which is being displayed by our airlines and along with the safety and security, fares, being governed by the railway board," says R P Yadav, chairman and managing director of Genius Consultants, a staffing consultancy.
Considering the issue of privatising railway services has been on the discussion table since at least 1993, this is certainly strong optimism.
Image used for representation purpose only.
Photograph: Reuters
Source: Read Full Article