India now has the highest number of cryptocurrency investors in the world.
Anup Roy reports.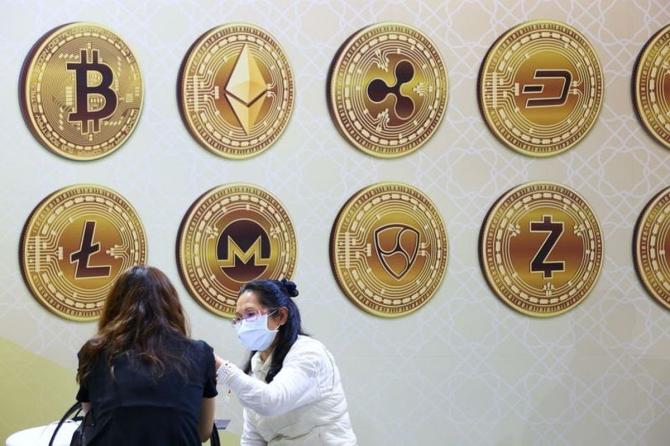 The future of cryptocurrencies in India appears uncertain but that has not deterred young Indians from embracing the so-called 'fourth industrial revolution' world, where interconnectivity and smart automation, much of it relying on blockchain technology, drive human civilisation.
Reserve Bank of India (RBI) Governor Shaktikanta Das has repeatedly warned of macroeconomic instability and even "serious consequences" if cryptocurrencies turn mainstream.
The country's monetary authority wants a China-like total ban on crypto, not even allowing these currencies to be treated as investments.
Though Parliament's website had listed the Cryptocurrency and Regulation of Official Digital Currency Bill as one seeking a total ban of cryptocurrencies in the country, it was not presented in the Winter Session.
India now has the highest number of cryptocurrency investors in the world.
And experts say that despite the prevailing unc­ertainty, crypto will continue to grow in the country.
"The RBI's concerns are certainly merited," said Shilpa Mankar Ahluwalia, partner and head of fintech, at law firm Shardul Amarchand Mangaldas.
"The risks of allowing cryptocurrencies to function as parallel currencies have significant implications for the payment ecosystem and the economy."
Indians love crypto
While the global cryptocurrency market cap touched $3 trillion in November, Indians, many of them retail investors, put in over $10 billion in crypto assets, such as bitcoin, ethereum, litecoin, cardano, dogecoin, and so on.
Some of them have given returns of over 100 per cent in the past year.
IT industry body Nasscom expects retail investment in crypto assets to rise from the present $6.6 billion to an estimated $15.6 billion by 2030.
According to portal BrokerChooser, 100 million Indians have invested in cryptocurrencies, the highest in the world, followed by the US and Russia.
RBI officials say these numbers could be exaggerated, and in any case, fuelled by investment ticket sizes of not more than Rs 1,000 to Rs 2,000.
But firms tracking the crypto market in India say that there are more serious plays involved.
"Large institutional-sized transfers above $10 million worth of cryptocurrency represent 42 per cent of transactions sent from India-based addresses, versus 28 per cent for Pakistan and 29 per cent for Vietnam," a report by crypto analysis firm Chainalysis said.
There are over 300 crypto-exchanges in the world, of which about 10 are in India.
Five of them — Unocoin, CoinDCX, CoinSwitch Kuber, Zebpay and WazirX — are major players.
Chainalysis ranked India as the second-most enthusiastic nation after Vietnam in embracing private cryptocurrencies.
Over the period of July 2020 to June 2021, the adoption rate of cryptocurrencies in India jumped 641 per cent on a year-on-year basis.
"Crypto is the next asset class in the making.
"The Supreme Court's decision to lift the ban on Crypto trading in India followed by macro developments, including the approval of Bitcoin ETFs by the US Securities, in October 2021, strengthened the legitimacy of crypto assets and helped further its mainstreaming excitement," said Ashish Singhal, founder, and CEO of CoinSwitch Kuber and co-chair of the Blockchain and Crypto Assets Council (BACC).
RBI concerns and actions
Given the opposition from the RBI, which is moving aggressively in launching its own central bank digital currency (CBDC), private cryptocurrencies are unlikely to become a means of exchange.
But the crypto base will probably multiply in India, if the government doesn't rule strictly against it.
Crypto trackers also point towards a powerful undercurrent of decentralised finance, or DeFi, taking root in India.
This is an alternative financing system, which sidelines the established banking system.
If it takes hold, DeFi can undermine the authority and control of the RBI and seriously jeopardise the financial stability of the country.
At present, there is no restriction in taking a position in any of the global exchanges or even buying the cryptocurrencies in India and selling it in any exchange abroad, and vice versa provided it is within the Liberalised Remittance Scheme (LRS) of $250,000 per annum.
The RBI seems to be keen to plug this route.
A Business Standard story published on December 18 said RBI has sent a formal letter cautioning the banks on facilitating cryptocurrency trading.
Regulate what?
Experts have suggested that instead of a total ban, the RBI can take a middle ground and regulate the space.
"Regulate what? The whole idea of cryptocurrencies is decentralisation," said a person familiar with the RBI's thinking.
"The currencies can be minted anywhere in the world.
"They sit in distributed ledgers across the world, and any private corporate superstar can swing the prices just by tweeting about it," said the person, requesting anonymity.
The RBI also says that these currencies can be used for terror financing.
But experts argue that it is easier to track a cryptocurrency deal than track a fiat currency transaction.
"Public cryptos using blockchain are one of the most transparent means of exchange.
"In fact, its transparency can sometimes be its Achilles' heel.
"If we shun it, it can go underground and still be used.
"That's dangerous in the 'fourth industrial revolution' world," said Srinath Sridharan, an independent financial market commentator.
"We need to understand that crypto is much bigger than the asset class itself.
"It is the new Internet. Tomorrow's best companies will be built on blockchain technology, and some of these startups will come from India," said Singhal of CoinSwitch Kuber.
RBI does not dispute the importance of blockchain.
The CBDC, for example, is being built on blockchain technology.
Payments system and CBDC
In India, transactions worth $270.7 billion are expected to shift from cash to cards and digital payments by 2023, and increase to $856.6 billion by 2030, according to Sonali Kulkarni, lead, financial services, Accenture in India.
And the homegrown unified payments interface (UPI) will dominate this area, especially in the low-value space, she added.
"From a long-term standpoint, the launch of a regulated CBDC will likely usher in more trust, resilience, efficiency and better governance in the digital payments ecosystem," said Kulkarni.
In fact, central banks around the world are hoping CBDCs will emerge as a potent replacement for private cryptocurrencies, particularly in the transactional aspect of it.
CBDCs can also facilitate cross-border transactions and the RBI has already started experimenting on such cross-border remittances with Singapore, albeit with UPI.
Once CBDCs come into existence, the process will become smoother and can be rolled out globally.
On the whole, 2022 looks promising for cryptocurrencies in India and the industry is hopeful of a progressive regulatory framework to help address misconceptions around crypto investing in India, said Singhal.
"We are looking forward to another year where more people learn about crypto as an asset class and make educated investment decisions.
"For the new year, we are hopeful that the government takes further steps toward learning more about the crypto industry and building positive regulation around it," said Avinash Shekhar, member of BACC and CEO of ZebPay.
Photograph: Ann Wang/Reuters
Source: Read Full Article