A study by second-hand car dealer CARS 24 showed 42 per cent of the consumer feel the need for a car to travel safely now. Those who used cabs to commute before the pandemic want to buy a car for the family and a two-wheeler for shorter runs.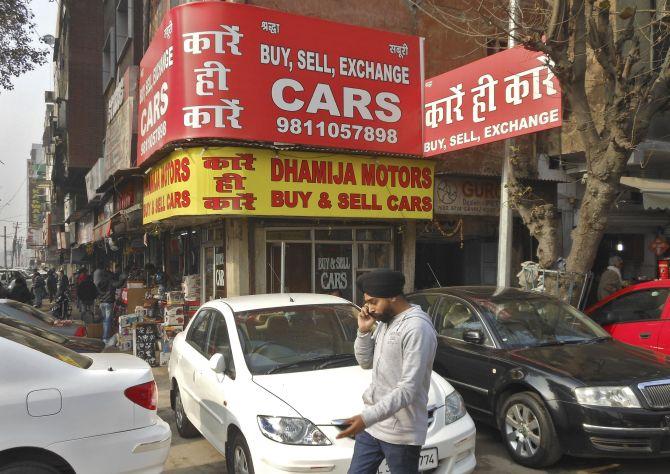 As people adjust to living with coronavirus, it is clear travel will not be the same.
An im­mediate fallout for those who can afford it would be greater reliance on driving than on public transport.
Yet this doesn't exactly mean booming car sales.
Instead the prospects are looking brighter for second-hand cars as people have begun to see four-whee­lers as objects with utilitarian functions that are required for safe travel rather than prestige.
A study by second-hand car dealer CARS 24 showed 42 per cent of the consumer feel the need for a car to travel safely now.
Those who used cabs to commute before the pandemic want to buy a car for the family and a two-wheeler for shorter runs.
Nearly 55 per cent of them are expected to shift to private cars, according to the study.
Of those who were using public transport, nearly 48 per cent are ex­pected to switch to cars and 19 per cent to two-wheelers.
This trend could help in a quick turnaround for old car dealers and other allied sectors once the lockdown is fully lifted.
Dealers sold around 4.2 million second-hand cars in FY20, and are hoping for a 100 per cent growth in sales in FY21.
A switch to personal mo­de of transport from public is widely visible across Chi­na, which has begun to open its economy after months of strict lockdown.
This is likely to be the case in India too as even before the pandemic hit the world, the domestic market for used car was larger than that for new the ones, with 1.5 used car sold for every new car in the country, says CARS 24.
Now, it is expected to become even bigger.
Car makers and major players are ramping up their sales network and gearing up for this opportunity with new offerings.
Tarun Garg, director-sales, service and marketing at Hyundai Motor India, said the used car industry may see a spurt as dealers have an impressive stock of old cars, and also because people might want to watch their spending and prefer an old or an entry-level new car that costs less.
Hyundai has over 475 H Promise outlets, which sell second-hand cars, across more than 300 cities in the country.
The automaker plans to widen its exchange sales and certified sales programmes in the coming weeks and months.
Steffen Knapp, director, Volkswagen India, said that they are looking to double business in the used car segment from around 20,000 units in 2019.
Volkswagen has 105 outlets in the country called Das WeltAuto that sell used cars.
These are fully digitised and the company's plan is to tie up with more partners for purchasing us­ed vehicles.
The company has tripled the number of evaluators, especially of old cars, on its networks.
According to Martin Schwenk, Managing Di­re­c­tor and CEO of Mer­cedes-Benz, today Mercedes-Benz India has the highest market share in the organised Pre-owned car market.
"Mer­cedes-Benz has completed five successful years of its Pre-owned car brand 'Me­rcedes-Benz Certified', which has sold over 20,500 units of pre-owned cars over the last five years and witnessed 20 per cent cumulative growth.
"Ow­ning an asset is still very much in preference over leasing, and that has been our experience, as a car purchase in India is driven by emotions," he said.
"We have seen 150 pre-owned cars booking in Feb-March period and now we have the entire range of new Mer­cedes-Benz vehicles along with a host of online services," he added.
The country's largest car manufacturer Maruti Suzuki did not elaborate on its plans as it is in silent period, but it is clear that all major players are eyeing this segment.
Mahindra First Choice Wheels MD and CEO Ashutosh Pandey said he expects to see demand from prospective new two-wheeler buyers who might upgrade to buying a used car.
Overall, he says that the growth prospects of used cars are fairly attractive.
Concerns about social distancing was an important factor for about 55 per cent of the those surveyed and they said their safety and that of their family members will drive their decision to buy a car.
Mahindra First Choice Wheels is gearing up to sell 1,000 plus vehicles within a couple of weeks of opening of the lockdown.
"We are confident that the market will grow by 5-7 per cent during FY21 and will return to 12-14 per cent per annum growth thereafter," said Pandey, adding that Mahindra First Choice Wheels has grown five times in the past four years, and sees a similar growth trajectory in the coming years with tier-2 cities playing the lead.
The turnaround time for used cars is less for new ones, and this might be crucial in tilting the balance in favour of the used cars for new buyers.
Unlike original equipment manufacturers, they do not have to worry about production, manufacturing and supply of spares.
Gajendra Jangid, co-founder and CMO, CARS24, said the new BS-VI emission norms have increased the price of new cars and hence the gap between a new and used car has increased, fuelling the demand for old cars.
He expects, 100 per cent year-on-year growth.
"The demand for used cars in the tier-2 and tier-3 cities has seen a steady rise over the years. In 2019, 23 per cent of the demand came from smaller Indian cities, whereas 63 per cent came from the metros," he said.
The company plans to set up selling services in 200 Indian cities in FY21, mainly in tier-2 and tier-3 cities.
Photograph: Aditya Kalra/Reuters
Source: Read Full Article