The Tata group may have to deploy upwards of $1 billion to improve the airline's passenger reservation system, upgrade and refurbish Air India's fleet, primarily the wide-body aircraft which are the mainstay for the airline's international operations, people in the know said.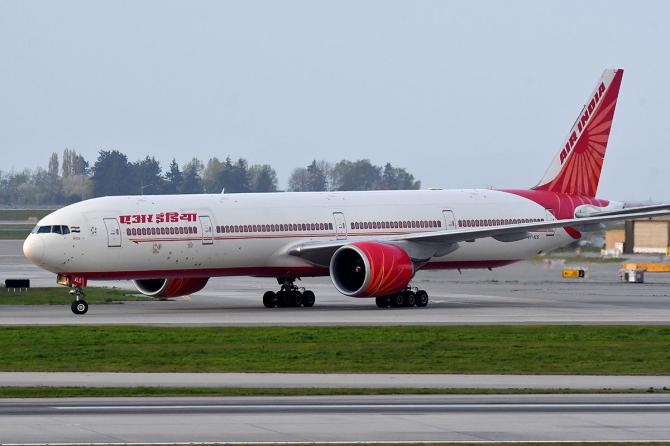 While the group has not yet decided on how it intends to integrate Air India with its existing airlines AirAsia India and Vistara, sources said the first task will be to refinance Air India's existing loans, upgrade its aircraft gradually, and rewrite multiple business contracts with vendors and suppliers.
"They will have to do 100 things to stabilise the airline and will have to put in a lot of money," DIPAM secretary Tuhin Kanta Pandey said, confirming that many aircraft are grounded.
Sources said that consultancy firm PwC and legal firm AZB Partners have been appointed for the takeover process.
"Any decision on the integration of operations is not going to happen immediately. First, the group will take complete ownership of AirAsia, probably by March, and then integrate the airline with Air India Express to develop a formidable low-cost operation.
"Any decision to merge with Vistara will take time as it will require permission from Singapore Airlines," said a person aware of the development.
The government is expected to issue a letter of intent (LoI) to Tata Sons, following which the share purchase agreement will be formalised.
"We have been declared the winner of the bid.
"We look forward to working with the government to complete the process over the next few months.
"We will be able to comment further only later," said a spokesperson of Tata Sons.
The person cited above said that the immediate focus would be rewriting the agreements with lessors.
While the government has decided to pay Rs 11,939 crore of lease dues, the title deeds of aircraft are needed to be transferred to Tata Sons.
The group will also have to refinance Rs 15,300 crore of Air India's debt that it has decided to take over.
For that, negotiations have to be done with banks as the loan is now backed by a sovereign guarantee that will be removed following privatisation.
"While considering the Tata group's creditworthiness is almost equivalent to that of the government, it will not be an issue.
"Still this is a complex legal exercise and will take time," the person said.
Next comes the upgrade and maintenance of fleet.
While Air India has a fleet of 141 aircraft, a mix of narrow and wide-body Airbus and Boeing aircraft, the airline has agreed to hand over only 118 of them in fly-worthy condition to the Tatas.
Air India also faces a severe shortage of parts and engines for the 787 fleet.
During the due diligence, the Tatas found that at any given time, there were at least five 787s lying unused due to the unavailability of engines.
In 2019 when Air India wanted to deploy all the Boeing 787 Dreamliners, it had leased around six aircraft engines from GE.
But as the pandemic forced the airline to ground its fleet, the leased engines were returned.
The maintenance contracts of the engines are found to be equally onerous, and the Tata group will have to rewrite those agreements.
During scrutiny of Air India's contracts, the "on-point" programme with GE for the 787 fleet caught attention.
On-point solutions are customised service agreements tailored to the operational and financial need of each airline and include overhaul, on-wing support, new and used-serviceable parts, component repair, and technology upgrades.
"The Tatas found GE's "on-point agreement" was proving to be extremely costly for the airline.
"Air India has to pay around $8 million upfront every month.
"Due to non-payment, servicing on engines have been stopped," said a person involved in the due diligence process.
Under this programme, engines are flown to the US and hence they require a lot of time for rectification.
They are then flown back in freighter aircraft.
GEnX engines require on an average two shop visits in 12 years, the sources said, adding each shop visit costs $5-6 million.
The 787 fleet is also due for an overhaul of their landing gear in two years as commercial airlines are required to remove and overhaul airplane landing gear about every 10 years or 18,000 cycles.
"Boeing had made an agreement for the overhaul programme but the airline didn't sign it due to shortage of funds.
"The agreement needs to be signed immediately for the programme to begin on time," the person said.
Similarly, on the Boeing 777 fleet — the mainstay for Air India's lucrative US operations — at least two aircraft have been found not fit to fly, while the remaining need heavy refurbishing.
As the government stopped funding, the airline has been tardy in upkeep.
There has been wear and tear in seats, too.
The sources expect the Tatas to freshen up the cabins, so as to update the product.
The touchscreen inflight entertainment (IFE) system on the Boeing 777 aircraft needs attention, too, as there are frequent complaints of breakdown.
"Seating change will also come along with IFE up-gradation.
"The current system is of Thales, whereas Panasonic has an upgraded and better product now.
"This is a major overhaul that requires four to six months and around $5 million per aircraft," the person said.
While Air India has 70 Airbus A320 type aircraft (A319, A320 and A321s), it has promised to hand over 58 of them in fly-worthy condition.
While the grounded planes will be given on an as-is-where-is basis, the airline has committed to maintaining all its serviceable aircraft so that there are no further groundings.
As many as 12 of the Airbus planes (A319s and A320s) are grounded because their engines are due for maintenance.
"The Tatas will have to take a decision whether to continue with the A319 and older A320 aircraft or phase them out.
"The new generation aircraft (A320 Neos) are relatively fuel-efficient and are used by group airlines," the source said.
An overhaul of each CFM56 engine on the Airbus aircraft requires around Rs 50 crore and thus it will cost around Rs 1,200 crore to make all the grounded planes ready for operations.
Kapil Kaul, CEO, South Asia, at aviation consultancy firm CAPA said that a quick turnaround is unlikely.
"It (a turnaround) could take three to five years and when we say three to five years, you need to be very patient and deploy long-term capital.
"Any restructuring costs a lot of money, and mostly, restructurings don't deliver the returns," he said.
Photograph: Jennifer Gauthier/Reuters
Source: Read Full Article