'We may not achieve what we achieved last year, but it is not as bad as it is made out to be.'
The Centre is planning to have the first issue of government bonds meant for listing on global bond indices in the first half of the year, and such issues will be 10 per cent of outstanding government bonds, Economic Affairs Secretary Tarun Bajaj said.
In an extensive interaction with Arup Roychoudhury, Bajaj also said the financial services secretary was examining a plan of bank recapitalisation, and the government was considering an urban version of the Mahatma Gandhi National Rural Employment Guarantee Scheme.
You talked about V-shaped recovery next year. How do you justify that? Already demand is tapering off (July feedback from firms shows that) and the rural economy is showing signs of losing steam because the pandemic has spread to those areas.
V-shaped recovery will come over a year. This year is a difficult one.
I would say a lot of media reports have been anecdotal.
I just looked at the revenue figures a little while ago.
Some sectors may be tapering off, but others are seeing an improvement.
Overall, the revenue figures that we are seeing are lower than last year's.
But it is not as much a concern as the outside world makes it out to be.
The revenue figures so far are not very alarming.
Vehicle sales have picked up.
An auto company chairman told me recently he had started a second shift and would soon start a third shift.
Two-wheeler sales are picking up.
Some sectors have still not picked up yet.
There is not much footfall in malls, movie halls, and restaurants.
Tourism is still being hit.
We may not achieve what we achieved last year, but it is not as bad as it is made out to be.
In rural India, rabi was very good, and kharif is also likely to be so.
There are no crop diseases, and sowing is much more than last year.
The monsoon has been good so far, and the reservoirs are at much higher levels.
I don't know how much the pandemic is spreading to the villages, but it has spread to smaller towns.
While we are fighting on the health front, we also have to take care of livelihoods.
The finance minister and chief economic advisor have hinted at further measures. The CEA said a fiscal package was on the cards. What are the plans regarding a fiscal intervention and a demand push?
We are already pushing infrastructure.
The finance minister has met infra ministries and all central public sector undertakings regarding their capital expenditure commitments.
I again reiterate we are ready to push in some more money, if needed, in the infrastructure sector if that has a multiplier effect.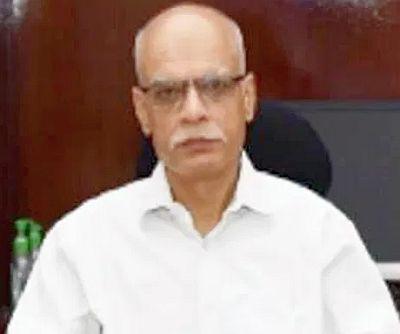 A rural push is also taking place.
We are spending more money on the MGNREGS, we have these job schemes, and we have PM Kisan.
The MGNREGS numbers have gone up, and we have pushed in some money through direct benefit transfer in rural areas and free ration has been provided to beneficiaries for another five months.
No doubt, these steps will give a push to the rural economy.
Is something being planned on urban jobs?
An urban MGNREGA-type of plan is being discussed.
But it is premature for me to say something on that.
Something is in the works, and it is being done by the relevant ministries.
This crisis has taught the issue of migrant workers in urban areas.
So there will be certain policies to address that issue.
Does the Centre now have a better understanding of what the economic damage will be? What are your estimates for the year, as well as the April-June quarter?
We have our estimates, but we have also seen the estimates given by international organisations and rating agencies.
I have the figures for each one of them.
They range from about 3.1 per cent to 5.4-5.5 per cent contraction.
And of late, some people have said the contraction will be much higher than this.
Let me say that they are also changing their figures.
So rather than I laying down a figure, we are watching how we can take the economy on the right path.
What we achieve in terms of GDP depends on a lot of things — whether the pandemic spreads more, or if a vaccine is successful in trials and is made available.
Even if there is news on a successful vaccine, you will see so much more activity in the country.
The RBI has said that banks's NPAs may surge to 14.7 per cent in a worst-case scenario. When can we hear something concrete on one-time asset restructuring? Isn't another round of recapitalisation necessary now?
The issue of restructuring is more on the RBI's table.
I think they are considering something on that front.
The loan interest moratorium is till August. So closer to that I am sure there should be something.
On recapitalisation, the RBI has talked to us about that as well.
The financial services secretary is having a look, and will come to us as to what the plans are.
Among all the measures announced for the Atmanirbhar Bharat package, the only one that has not yet been cleared by the Cabinet is the strategic sector.
A Cabinet note is doing the rounds. What is the progress on that and what sectors can we expect to be part of it?
I have given my comments on the draft Cabinet note.
It will not be fair on my part to disclose information on that.
This will be a forward-looking policy.
A policy statement by the government should give some cheer to the market.
Where are we on plans of listing on global bond indices?
Under a fully accessible route, securities of 5, 10, and 30 years maturity have been identified.
Five securities have been identified and they account for about 10 per cent of outstanding government securities.
They would increase over time and will contribute to 60 per cent of the trading volumes in G-Secs.
The RBI is working on it. One of them we are hoping to have soon.
It might happen in the first half of the year.
India had a trade surplus in June after 18 years. But experts are not enthused because imports have been falling at alarming rates, signifying lack of demand in the economy. How worried is the ministry?
These are not normal times.
Had something like this happened before the pandemic, it would have been great news.
It is not only lack of demand but also a disruption in supply chains.
So, I think once the supply chains restore, there will be better sense on this.
And the other thing that you have to see is that oil and gold imports in terms of value have gone down.
Oil prices are low and good levels of foreign exchange have also been a plus for us.
Source: Read Full Article