The Reserve Bank of India's action against Reliance Capital comes at a time when the Anil Ambani group was planning to make a comeback with the group company, Reliance Infrastructure, raising funds from the promoter family.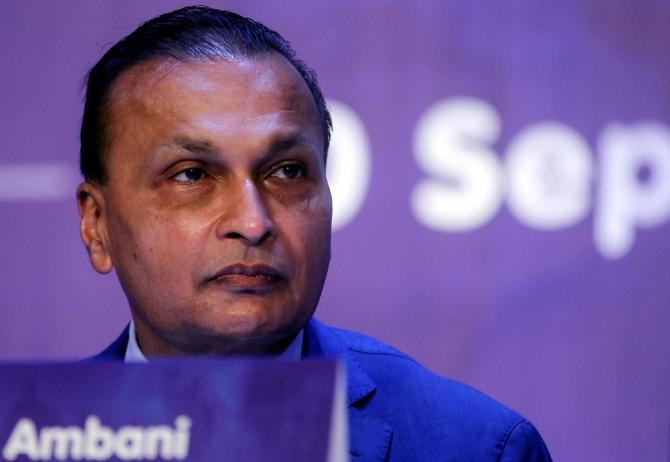 As part of the comeback plan, Reliance Infrastructure received Rs 550 crore fund infusion from the Anil Ambani family.
A month earlier, Reliance Power, a listed subsidiary of Reliance Infrastructure, also raised funds from its parent by issuing preferential allotment of shares thus increasing the stake of Reliance Infrastructure in the company.
Two other group companies, Reliance Communications and Reliance Naval & Engineering have been referred to the National Company Law Tribunal (NCLT) for debt resolution under the Insolvency and Bankruptcy Code, 2016.
While debt resolution of Reliance Communications has been delayed due to litigation, the lenders are currently evaluating proposals from bidders for Reliance Naval.
In July, Reliance Infrastructure had announced that it would raise funds by issuing securities on preferential basis to the Anil Ambani family to take their stake to 22 per cent from 5 per cent currently.
A month earlier in June, Reliance Power, a subsidiary of Reliance Infrastructure, had announced that it would raise Rs 1,325 crore by issuing preferential shares and warrants to its parent.
Reliance Infra had debt of Rs 14,000 crore as of March this year while Reliance Power had debt of Rs 24,000 crore.
With the fund infusion, Reliance Infrastructure and other promoter holding in Reliance Power increased to 25 per cent by September end from 9.06 per cent held in March this year.
Reliance Infrastructure's stake was to further increase to over 38 per cent on conversion of warrants in the power subsidiary.
Reliance Infra's stake in Reliance Power had come down due to invocation of pledged shares by the lenders.
Reliance Infrastructure took several steps to reduce its debt including selling 100 per cent equity stake in DA Toll Road Private Limited (DATR) on March 14, 2019, for an enterprise value of Rs 3,600 crore, including equity or equity-linked instruments or debt of up to Rs 1,700 crore to Cube Highways and Infrastructure III Pte Ltd.
The company entered into the agreement for sale of its entire 74 per cent equity shares held in Parbati Koldam Transmission Company to India Grid Trust on November 28, last year for a total transaction enterprise value of Rs 900 crore.
During the year, the company also sold its headquarters in Santa Cruz to YES Bank for a transaction value of Rs 1,200 crore.
Entire proceeds from this sale was utilised to repay the debt of YES Bank.
Photograph: Prashant Waydande/Reuters
Source: Read Full Article