Ruia, a chartered accountant whose business ranged from sugar to textiles and heavy engineering to tyres, refused to comment on queries about his interest in Air India.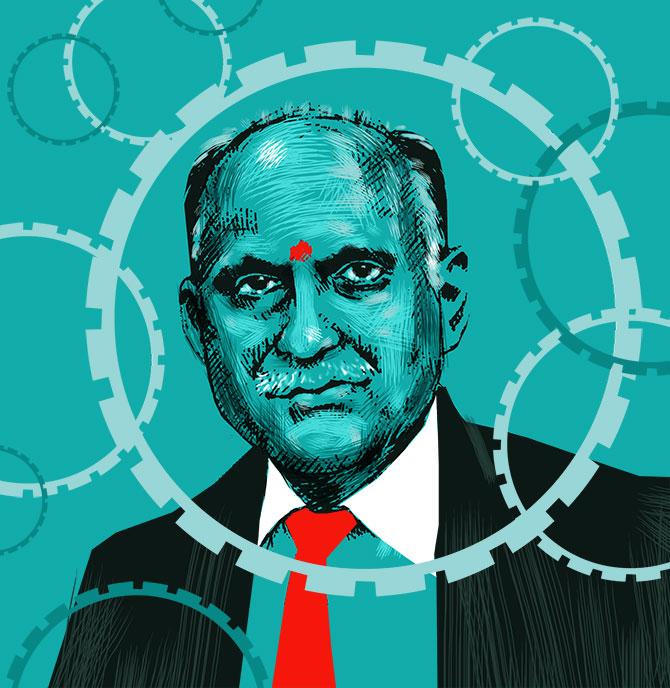 Illustration: Dominic Xavier/Rediff.com.
In a surprise development, Kolkata-based businessman Pawan Ruia has submitted an expression of interest to buy a 100 per cent stake in national carrier Air India. The Tata group and an employees' consortium of Air India are the other entities to express interest.
The name may not strike a bell outside the Kolkata business circles, but Ruia came to be known as a "turnaround tycoon" after his takeover of financially stressed companies like Jessop & Company, Dunlop India and Falcon Tyres.
However, he was knocked off that pedestal after the companies entered the Board for Industrial and Financial Reconstruction. They are currently facing liquidation.
Even as political challenges came in the way of turnaround of the three sick companies, Air India would be different, said a person aware of the developments. The government would strongly back any entity which wins the bid so that the airline can be turned around, he pointed out.
It is learnt that the EoI was submitted under a consortium led by Kanti Commercials Private Limited — a company associated with the Ruia group. The other entities associated with the consortium are Enormous Nivesh and Fragment Nivesh — both related parties of Ruia-owned companies.
Ruia, a chartered accountant whose business ranged from sugar to textiles and heavy engineering to tyres, refused to comment on queries about his interest in Air India.
Officials and experts believe that unless Ruia brings in a financial partner or a large company to support his bid, he's unlikely to win.
"I would doubt that Ruia alone has the ambition to acquire and turn around a company of national importance like Air India. He may have a financial backer," said a Kolkata-based corporate lawyer. It could not be ascertained if Ruia was in touch with companies for financial backing.
According to the eligibility criteria set by transaction advisor EY, a bidder should have a net worth of Rs 3,500 crore. The government expects to fetch around Rs 15,000 crore from the sale of Air India.
EY is currently reviewing the expression of interest and will inform qualified bidders. Following that, financial bids would be submitted.
The government has refused to disclose the names of the entities which have submitted EoIs.
"The transaction advisors should strictly maintain the confidentiality of the potential bidders from all persons including persons in government including the CPSE and non-government. However, if required, information may be shared with specified agencies in national interest upon an advice by the administrative ministry in writing," the civil aviation ministry had said.
A government official said due care would be taken to identify eligible bidders. "Air India is a national asset and there are multiple checks and balances to identify persons or companies with the right interest," the official said.
As for Ruia, he came into the limelight in 2003 when he bought a controlling stake in Jessop and Co from the central government. He acquired Dunlop in 2005 from the Jumbo Group owned by the Manu Chhabria family. While the plant was reopened, it did not see a single day of full production amid labour unrest.
In 2013, the West Bengal government passed two bills to take over Jessop and Dunlop from the Ruia group, but the bills failed to get assent from the President.
Source: Read Full Article