Ola is now in direct competition with electric two-wheeler makers, such as Ather Energy, Hero Electric, Bajaj's Chetak, and TVS Motor Company.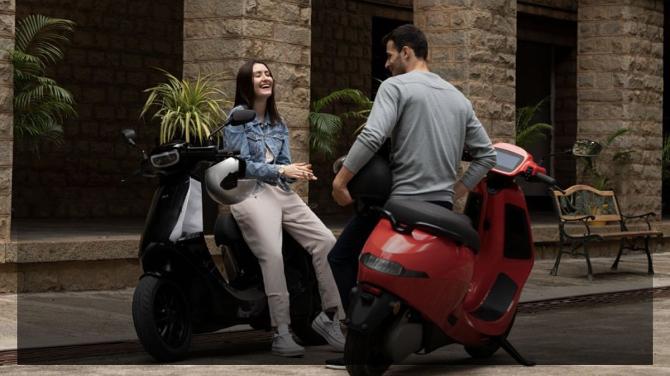 Ola Electric's technology team is working hard to iron out the technical kinks that marred the electric vehicle company's hyped online sale of its electric scooters (e-scooters) – the S1 and the S1 Pro – on Wednesday, said company sources.
The SoftBank-backed firm is facing technical difficulties in making the website live for the purchase of its e-scooters.
According to company sources, the website couldn't go live as there were integration issues.
The firm has built a complete digital purchase journey, including a fully digital loan process that does not require any paperwork.
Ola had planned the sale from 6 pm on September 8.
This was part of its plan to skip the physical store model and go completely digital.
However, the company was not successful in providing this first-of-its-kind digital purchase journey as the sale window did not open and people had to wait for hours.
A lot of customers vented their frustration on social media platforms for not being able to buy the product.
"Our team is working on fixing the website and making sure it doesn't happen again," said a company source, adding, "We will now be starting our purchase on September 15 at 8 am and are making this platform capable of handling huge traffic."
Company sources said the firm is reaching out to customers and keeping them informed about their reservations via SMS, email, and push notification.
Their reservation and position in the purchase queue remain unchanged.
So, the customers that reserved it first will get it first.
The delivery dates also remain unchanged.
"I want to apologise to all of you who had to wait for several hours.
"The website was just not up to expectations on quality. I know we disappointed you and I sincerely apologise to each one of you for what was clearly a very frustrating experience," Bhavesh Aggarwal, co-chairman and group chief executive officer, Ola, tweeted.
A spokesperson for Ola on Thursday said the firm has apologised to those consumers who have reserved its e-scooter.
"We faced technical difficulties in making our website for purchases live and we decided to postpone go-live with our purchase website on September 15 at 8 am," said the spokesperson for the company.
Last month, Ola Electric took the wraps off its maiden e-scooter offerings – the S1 and S1 Pro – for a commercial launch on Sunday.
With prices starting from Rs 99,999 (excluding state government incentives, registration fee, and insurance cost), Aggarwal had said the e-scooters are designed and engineered in India for the world and will deliver the best scooter experience to the consumer.
He suggested that after 2025, the sale of petrol-powered two-wheelers should not be allowed.
Ola is now in direct competition with electric two-wheeler makers, such as Ather Energy, Hero Electric, Bajaj's Chetak, and TVS Motor Company.
It has the S1 (Rs 99,999) and S1 Pro (Rs 129,999) e-scooter models.
The company had said it would allow buyers for the purchase of its vehicles from September 8, and start deliveries across 1,000 cities and towns in October.
The company had said it would sell the vehicles online (olaelectric.com) and also through physical stores in future.
"All that remains on track and nothing has changed," said a company source.
The person said the company is initially focusing on the digital mode to sell the vehicles and would pursue a hybrid model later.
Ola had announced in December 2020 that it would be investing Rs 2,400 crore for setting up Phase 1 of the factory.
The Ola Futurefactory is coming up on a 500-acre site in Tamil Nadu.
At full capacity of 10 million vehicles annually, it will be the world's largest two-wheeler factory and will handle 15 per cent of the world capacity.
It will have an initial capacity of 2 million units a year in Phase 1 and also serve as the company's global manufacturing hub for its range of electric-powered scooters and two-wheelers across India and international markets, including the European Union nations, the UK, Latin America, Asia Pacific, Australia, and New Zealand.
Photograph: Courtesy Ola Electric
Source: Read Full Article