Companies have started to ramp up production already, encouraged by high order books and the growing preference for private transport in both rural and urban areas.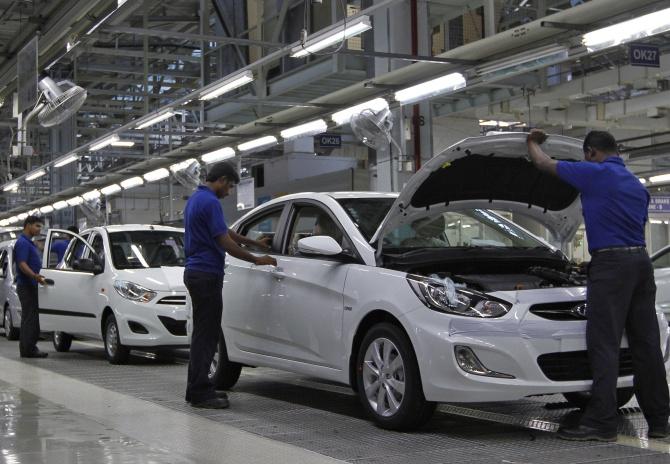 As the second wave of the Covid-19 pandemic abates, India's automakers are hopeful of a quick recovery in sales volumes, led by better rural sentiment, low interest rates, improved availability of finance and a gradual uptick in business and economic activity.
In fact, companies have started to ramp up production already, encouraged by high order books and the growing preference for private transport in both rural and urban areas as a means to avoid infections.
In early April, the industry had been bullish as the sales trend for March showed that the effects of the Covid-19 pandemic had been left behind.
The total vehicle sales had grown by 77 per cent, albeit on a lower base, and for the past few months, sales had consistently touched 300,000 units per month.
An optimistic Maruti Suzuki, India's largest carmaker, had said that the higher liquidity in the market, coupled with easier finance options, would likely be a boon for the industry.
But once the second wave of the pandemic struck, all the gains of the previous few months got eroded.
With more than 80 per cent of the country under lockdown, carmakers were forced to shut factories and dealers had to close their showrooms.
Now, the pendulum has swung back once again.
As the Indian economy starts opening up once more, industry executives are hoping for a robust Q2.
Sales are projected to recover from August, once economic activity gathers pace.
Industry sources said that in June, two of India's largest carmakers, Maruti Suzuki and Hyundai, are aiming to produce 16­5­,000-169,000 units and 60,­0­00-65,000 units, respectively.
This is an increase from April, when Mar­uti Suzuki produced 157,585 vehicles and Hyu­n­dai about 57,100 vehicles, before production nosedived in May when the country was hitting the peak of the second wave.
The quick ramp-up in production has been possible since, unlike last year, there was little or no flight of workforce this time.
"Ten states that account for 40.2 per cent of total sales have opened up fully.
"Since unlocking began, our dealer partners are seeing good traction and enquiry from customers.
"I expect 70-75 per cent of sales witnessed in early April to be back in June," said Shashank Srivastava, executive director (marketing and sales) at Maruti Suzuki.
Out of 3,145 of Maruti's outlets, 2,300 were open as of the end of last week.
Hyundai is also ramping up production and has restarted the third shift at its Chennai plant.
Tarun Garg, head of sales at Hyundai, said that the company was of the view that 75 per cent of normal monthly sales will return by June.
"Today, 80 per cent of our dealerships are open. While May saw only 25-30 per cent of sales, we expect that by June, 70-75 per cent of normal demand will be back," Garg said.
However, the rebound in two-wheelers may take a while, as rural areas, which are one of their primary markets, were badly hit by the second wave of the pandemic.
Y S Guleria, head of sales at Honda Motorcycle and Scooter India, said, "Rural areas have also been impacted by the pandemic this time. But there is one positive aspect: there has been a record agricultural output and we can expect a normal monsoon.
"We can clearly see it from the trend of tractor sales, which have fared well in the last two seasons.
"The fundamentals look strong but we will have to see if it translates to demand."
However, Srivastava of Maruti cautioned that the current bullishness in the industry really depends on the overall mood of the economy and whether or not India will be able to resist a third wave.
"The supply side is smooth, but the actual recovery of demand will depend on the overall macro economy," he said.
Agreed Guleria of Honda: "It is like crystal-gazing. We are on a week to week business planning."
Apart from the uncertainty in demand, what is worrying companies is a spike in input costs, which will pinch profit margins.
For instance, for Bajaj Auto, input costs have risen by 4-5 per cent, against which the company has taken price hikes of 4 per cent in phases.
The two-wheeler-maker's Ebitda margin contracted 60 basis points (bps) year-on-year and 170 bps quarter-on-quarter to 17.7 per cent in Q4.
The firm expects a further 300 bps impact in Q1 of FY22, for which it has increased the price of its products by 1.5-2 per cent in April.
Analysts say that despite the increase in production cost, the uncertainty in demand will make it tough for companies to increase prices.
"We expect a stronger FY22 on a very low base of H1FY21.
"However, the growth will be lower than our earlier expectations as the second wave of the pandemic has hit the country badly.
"Therefore, retail as well as wholesale numbers will be impacted at least in Q1 of FY22.
"We are, however, expecting a strong bounce back in Q2FY22 across the segments as Wave #2 is expected to subside," LKP Securities said in a note.
Photograph: Babu/Reuters
Source: Read Full Article