Mukesh Ambani-led Reliance Jio has introduced a 20-per cent cashback offer on select prepaid plans, intensifying competition in the Indian telecommunications (telecom) market.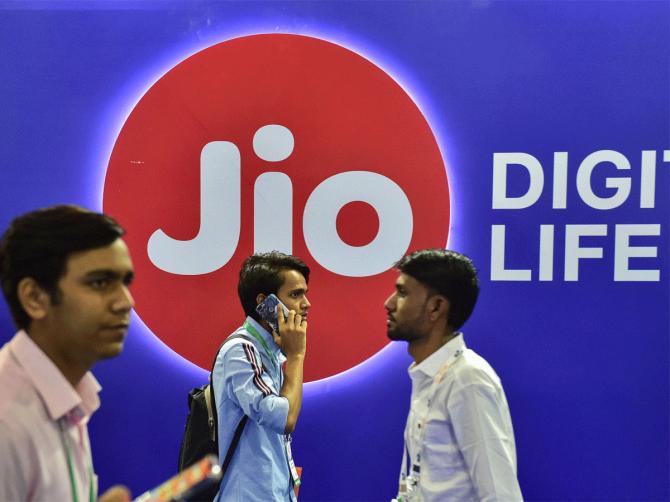 Jio is the largest telecom service provider in India, with 443 million subscribers as of July.
Jio's cashback offer will drive cross-selling across Reliance's various retail businesses, but the move is also being seen by some analysts as a signal that tariff hikes may not be around the corner just yet.
Jio did not issue a statement on its offering.
A company source said Jio continues to introduce promotional offers to provide more value to its customers and the cashback offer is being promoted across all Reliance platforms as well.
According to the Jio website, the 20-per cent cashback offer is available on three prepaid plans (Rs 249, Rs 555, and Rs 599).
These plans come with a validity of 24-84 days and give customers 1.5 gigabyte (GB) to 2 GB data daily.
While the cashback offer is being dubbed a 'promotional scheme' ahead of the festival season, it comes within two weeks of the telecom reforms package.
Both Bharti Airtel and Vodafone Idea (Vi) renewed the call for a tariff hike, following the government's announcement.
Some analysts feel Jio's move could put pressure on the competition and tie their hands on the issue of a tariff hike.
"We believe that cashback offers will likely delay tariff hikes, which are crucial for Vi and Airtel in the near future," said Yogesh Patil, research analyst, Reliance Securities.
"While we believe the current pricing is unsustainable for the sector, we do not rule out near-term increase in competitive intensity, given Jio's focus on market-share gains," said Credit Suisse in an investor note.
It said the offer indicates that Reliance Industries is trying to increase cross-sell amongst Reliance's various retail businesses by offering cross-brand cashbacks and rewards.
Credit Suisse added that Airtel also offers a cashback of up to Rs 100 on purchase of FASTag, which is a toll payment system.
"Jio's prepaid plans are already priced 6-17 per cent lower than Airtel's and Vi's.
"This cashback offer makes it further attractive to customers.
"We think the cashback scheme is a limited period offer.
"Sentimentally, it's a negative for competition, but do not see it having much financial impact," said a telecom sector analyst.
While both Vi and Airtel have increased tariffs of low-end 2G subscriptions, family and enterprise plans, the hikes have not been taken across the board.
Vi managing director and chief executive officer Ravinder Takkar said telecom sector reforms create a right environment for price increase.
"I have always said I will not be shy of increasing prices, but I need to be confident that others will follow and I will not be left out there," Takkar had said.
Photograph: PTI Photo
Source: Read Full Article