Over 5 million alumni from the Indian Institutes of Technology, Mumbai University and Institute of Chemical Technology, Mumbai, plan to raise Rs 21,000 crore to start the world's largest infection testing lab in Mumbai.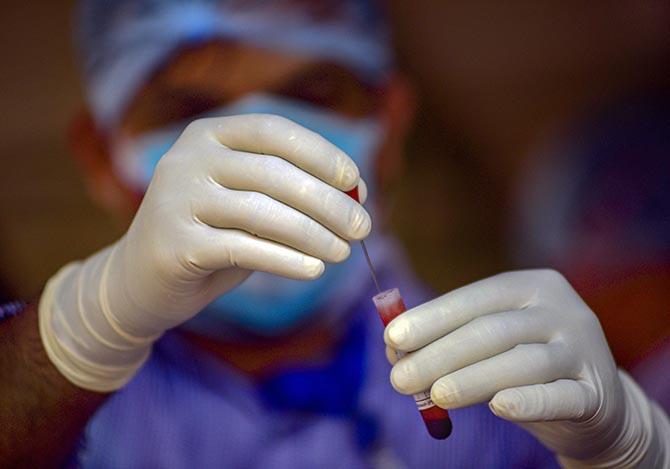 IIT Alumni Council President and Chief Volunteer Ravi Sharma tells Rediff.com how the MegaLab, which plans to begin pilot testing on August 15, wants "to create a world class testing infrastructure which is versatile enough to have long term application across different types of infectious diseases, even beyond the current pandemic though the immediate priority is clearly COVID-19."
The IIT Alumni Council plans to raise Rs 21,000 crore to set up the world's largest viral infection testing lab? What will be the exact purpose of MegaLab Mumbai?
MegaFund is the dedication of the alumni community of IITs, MU (Mumbai University) and ICT (Institute of Chemical Technology) towards supporting the prime minister's mission of Aatma Nirbhar Bharat.
Our alumni ecosystem includes over hundred Padma Shri awardees and thousands of PhDs. The alumni have global dominance over the technology sector and intellectual leadership in the venture capital industry.
As geography becomes history and survival of the human race outweighs all other considerations, we are heading towards a new knowledge age which will see acceleration in technology-driven economic development.
The MegaFund will support and compliment the government in creating the social infrastructure and self sufficiency in our country.
MegaLab will be one of the projects that will be financed by MegaFund.
The IIT Alumni Council is committed to support smart and efficient health infrastructure for the people of India and the same will be realised with the collective knowledge and wisdom of the IIT alumni community.
The purpose of Megalab is to create the next generation testing facility in India by bringing together the most effective and impactful combination of equipment, indigenous technology, R&D, academia and the social venture funding ecosystem to make India self-sufficient and a global contributor to the management and treatment of infectious diseases.
The important focus is make this testing affordable and within reach of the masses.
Who will be the chief contributors to this corpus? How do you plan to raise Rs 21,000 crore?
The broad funding plan for MegaFund comprises:
Rs 3,000 crore to be contributed by the PanIIT Fund — a social fund registered under Category 1 of the AIF Regulations 2012 of SEBI, which was launched on April 1, 2020.
This fund is being subscribed by IIT alumni globally as well as by CSR contributions from alumni-managed and alumni-owned companies.
IIT, MU and ICT alumni managed funds including Kotak Private Equity, Development Catalyst as well as healthcare-dedicated, alumni-managed funds to get preferential co-investment rights for an additional Rs 3,000 crore.
These funds currently manage close to Rs 500,000 crore and even one per cent of that is Rs 5,000 crore.
Rs 15,000 crore Fund of Funds initiative is to provide capital to incubatees registered with the IIT Alumni Council approved incubators through the SEBI Registered Venture Capital Companies.
Fund of Funds will compliment Atal Innovation Mission programmes and the Rs 10,000 crore Government Fund of Funds initiative managed by SIDBI.
The Fund of Funds would be managed by the PanIIT Fund.
The investors in this fund would include local and global development financial institutions such as the World Bank, KfW (a State-owned German development bank), ADB, DFID, etc, as well as other impact funds and foundations.
Will this be a for-profit initiative?
MegaLab is being set up as a social venture where the focus currently is not on return, but on creating social impact by fulfilling the need for a facility and service of this kind. MegaLab has also become a necessity for India to become self-sufficient in the treatment of infectious diseases.
Hence, the investment into MegaLab is being pooled in at the level of PanIIT Fund which is a SEBI approved Category 1 Social Venture Fund.
By definition, a social venture fund is designed for investors seeking impact over financial return.
We believe MegaLab will be an institution of national importance and achieving collaborative excellence is the higher purpose.
What kind of testing/research initiatives will be undertaken at this lab once it becomes functional?
The testing infrastructure would comprise of vehicle-mounted automated sample collection stations in cars or cabs and COVID-19 test buses.
The MegaLab itself would comprise of robotic contactless sample transport from the vehicles to the testing line with robotic pooling followed by high speed RNA extraction using magnetic bead technology.
The subsequent protocol would be rapid thermo-cycling followed by fluorescence detection of waveforms.
The sigmoids would be uploaded to the computational horsepower available in cloud supercomputers for identification, big data creation/number crunching and longitudinal patient studies.
The Aadhar card, passport or mobile number would be used as the person (unique) identifier.
MegaLab is considering various options besides the proven nasal and throat swabs, including, but not limited to saliva, urine and/or stool samples as appropriate.
One of the aspects being considered is a nested PCR format which will use exponential amplification techniques for very low viral load samples to test sewage from Mumbai's buildings to detect the presence of here-to-forth unknown COVID-19 patients in the buildings.
This would allow the option of sealing the buildings if the COVID-19 patient has not yet been declared to the health authorities by the resident/s.
The MegaLab R&D and Decision Support teams would be connected to supercomputers at four remote IIT campuses which would provide continuous data mining and machine learning based support.
MegaLab Mumbai plans to improve the quality of life, create social health infrastructure and ensure self-sufficiency. How do you plan to achieve these aims?
These are the objectives of MegaFund which is the parent funding entity that will support MegaLab.
MegaFund is designed as a catalyst for the creation of the largest Indian social initiative with an aggregated target investible corpus of Rs 21,000 crore.
The IIT Alumni Council along with its institutional partners — University of Mumbai and ICT Mumbai — has over five million alumni.
Corporate investment vehicles managed or controlled by these alumni have assets under management of over Rs 500,000 crore.
MegaLab is one small part of the MegaFund. There are several initiatives to be anointed by he IIT Alumni Council in due course.
Dealing with survival and then improving quality of life, creating social health infrastructure and furthering the government's stated policy of becoming self sufficient are amongst the top priorities identified by the IIT Alumni Council to focus its efforts in accelerating technology driven economic development.
Our goals are also consistent with the sustainable development goals published by the United Nations and pursued by India.
By when will MegaLab Mumbai ne operational? How many tests can it conduct on a monthly basis?
MegaLab is being designed with an end-to-end capacity to carry out over 10 million tests per month.
Keeping in mind the opportunity to replicate with smaller capacities at other places in India and in other developing counties, the MegaLab would comprise of three independent lines: One million tests per month (tpm), three million tpm and six million tpm.
To put this in perspective, MegaLab will be based on the end-to-end Kodoy indigenous technology (involves use of e-vehicles for sample testing) stack and will have adequate capacity for testing the entire population of Mumbai for infectious diseases once a month.
IIT Alumni Council and its institutional partners are racing against time to have the facility operational by the end of calendar year 2020.
We expect to start pilot testing on August 15 and commence commercial testing shortly thereafter.
What will be the cost of testing at these labs? How will it benefit India in terms of fighting future pandemics, employment generation?
The purpose of MegLab is to create a world class testing infrastructure which is versatile enough to have long term application across different types of infectious diseases, even beyond the current pandemic though the immediate priority is clearly COVID-19.
The initial set-up is being designed using the best equipment and technology currently available anywhere in the world and the proposal is to continuously upgrade the facility in line with new developments.
MegaLab will be a national asset set up and run by credible institutional partners such as ICT, Mumbai University and government sponsored R&D bodies such as CSIR (Council of Scientific and Industrial Research), labs like IGIB (Institute of Genomics and Integrative Biology) in addition to IIT Alumni Council.
In addition, we have received interest from a number of MNC pharma majors who are keen to partner this initiative.
MegaLab aims to establish a unique public-private partnership model to fight future pandemics.
MegaLab's pricing to the end customer will be much cheaper than competition, test results would be available much faster and the logistics would be much more convenient than competition.
MegaLab will create significant number of jobs directly and indirectly. Rather we believe that Megalab would open floodgates for innovation and training.
THE BATTLE AGAINST CORONAVIRUS
Source: Read Full Article