'I cannot cope with the demand. It will take us a couple of months to ramp up production.'
Bio-pharmaceutical company Biocon, which saw a decline in its profit in Q1FY21 despite a double digit growth in topline, is betting big on two recent developments.
The first one is the company's voluntary licencing agreement with Gilead to manufacture Remdesivir, the anti-viral drug which is said to be suitable for treating mild to moderate COVID-19 patients.
The second one is the company's novel biologic drug Itolizumab which has received emergency approval to treat COVID-19 patients in India.
Biocon's Executive Chairperson Kiran Mazumdar-Shaw tells Samreen Ahmad that the demand for both drugs is going to be quite huge and the company is quite capable of meeting it with its operations almost back to normal.
Your biologics business has bounced back to growth in the June quarter. How did the company manage to do so?
The previous quarter was an abnormal one when the first lockdown was suddenly imposed in March.
It caught us unawares because we were not prepared for it.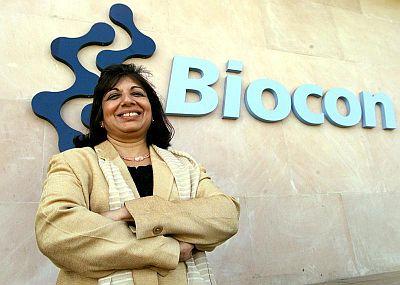 However, by April, we had started planning and getting ready for functioning in the situation which helped us bounce back.
We had said even then that we would recover in this quarter.
Is the impact of COVID-19 on your operations going to be there for some more time?
As of now, we have come back to pre-covid operations, and unless something unforeseen happens, we think it won't impact us.
The company's net profit has been pulled down by higher R&D spend during this quarter. What is the R&D spend outlook for the coming quarters?
We always expect R&D to be about 10 to 11 per cent of net revenues of Biocon, excluding Syngene.
That's the kind of level at which we will be investing in R&D, and rightly so because R&D is a barometer of growth.
strong>Apart from Itolizumab, any other molecules the company is repurposing to treat COVID-19 patients?
Itolizumab is the product that we thought should be repurposed because the mechanism of action is quite unique.
We felt that this was the drug that would actually have a role to play in dealing with the cytokine storm that is being seen in COVID-19 patients.
What kind of response has the drug received? How is the company ramping up production?
I cannot cope with the demand. It will take us a couple of months to ramp up production.
It is a biologic, so it takes time for increasing production.
But fortunately, we have the infrastructure to do that.
So we don't have to go looking for contract manufacturing.
We have the internal capacity which we can leverage to bring up the speed.
Biocon's US partner Equillium is also planning a clinical trial for Itolizumab. What kind of opportunity will it create?
There is going to be a huge demand (for it) not only because of COVID-19, but in the manner it acts on cytokine syndrome which is found in several other conditions.
It is going to be a blockbuster opportunity for Biocon and we will cater to the global demand, based on the success of the trials.
Any other novel ideas the company is working on to aid the fight against COVID-19?
Syngene is offering testing services free of cost to the government.
It has developed several types of antibody and antigen kits.
They are in the process of obtaining the approval which, unfortunately, is slow.
They have partnered with HiMedia Laboratories for manufacturing and distribution, which is in the queue for approval.
We are not in the vaccine business, but Syngene is helping a lot of companies and start-ups with research support.
Biocon has signed a voluntary license agreement with Gilead to manufacture and supply Remdesivir. Can you give some details on this?
It will be made at Syngene's Mangalore facility.
It is a large scale facility and the production capacity will be enough to cater to any demand.
We will be benchmarked against all the Indian companies in terms of price.
The product will be rolled out in the next two months.
hat is the company's strategy in the digital therapeutics segment?
In today's world if you want to differentiate yourself and have some value added proposition, then it's going to be through digital therapeutics.
We have collaborated with Voluntis to develop and distribute a digital product for diabetics.
This is a personalised platform on which the patient is able to manage diabetes.
When you have a better control on the disease, then comorbidities get eliminated.
We will look out for other opportunities in this segment and will see what is available.
Photograph: Bing Guan/Reuters
Source: Read Full Article