Not only are the small- and mid-cap indices off to their best start to a calendar year since 2014 but their outperformance over large-caps is at record levels.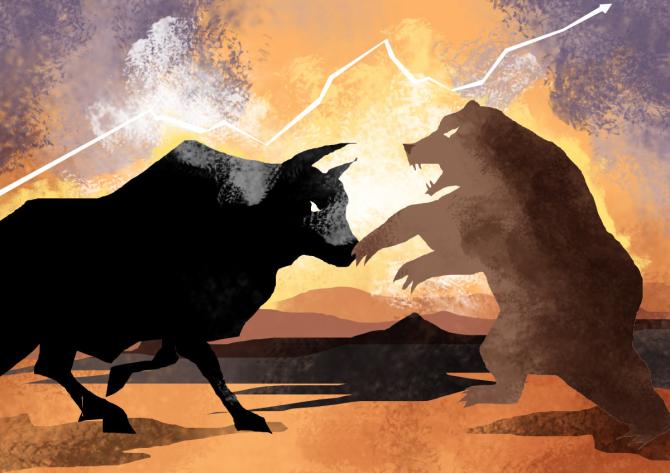 The relentless rally in small- and mid-cap stocks continues as large-caps show signs of fatigue.
In July, the Nifty Smallcap 100 rose 8.1 per cent, extending its year-to-date (YTD) gains to 48.5 per cent, while the Nifty Midcap 100 added 3.1 per cent, taking its YTD rise to 33.5 per cent.
On the other hand, the Nifty50 remained unchanged for the month, with YTD gains of 12.7 per cent.
Not only are the small- and mid-cap indices off to their best start to a calendar year since 2014 but their outperformance over large-caps is at record levels.
The price-to-earnings (P/E) multiple of small- and mid-cap indices — which traded at a discount to the Nifty last year — are now commanding a premium.
On the price-to-book (P/B) basis, small- and mid-caps are cheaper than large-caps but costlier when compared with their historical averages.
"Mid- and small-caps trade at premia to the large-cap index with the P/E ratios of 23.1x and 22.1x, respectively, on FY21-22 earnings.
"On the less-changeable price-to-12-month forward book value (P/B), the Nifty50 trades at 3.1x — which implies a premium of almost 14 per cent, while mid- and small-caps trade at 2.6x and 3.4x, respectively, implying premia of 31 per cent and 140 per cent to their long-term averages," says Mayank Khemka, chief investment officer-India, Deutsche Bank.
He said sector rotation and the mid/small-cap outperformance are the two biggest themes this year.
So, is the rally in the broad market a sign of irrational exuberance or is it fundamentally driven?
The jury is still out.
On one hand, small- and mid-cap companies are expected to post far superior earnings growth to large-caps.
Also, the outperformance this year comes after three years of sharp underperformance.
On the other hand, there are concerns that the rally in some pockets has gone too far, underscoring the importance of stock selection.
Vishal Gajwani, head-alternate assets equity investments, Aditya Birla Sun Life AMC, says while small- and mid-caps have played catch-up with large-caps, there is still scope for some of them to continue to do well.
"A lot of emerging sectors, such as diagnostics and chemicals, are part of the small- and mid-cap space.
"These are high-quality and high-growth businesses. Though they have done quite well for some time, from a 3- to 5-year perspective, they can continue to do well," he said.
The Nifty Midcap 100 index has gained for 14 straight months, while the Smallcap 100 index has given positive returns for 13 of the past 14 months.
"Retail investors are pouring money into this space.
"Many are raising their bets, given the continued gains. I don't see any big crash over the next three months but one has to be cautious.
"FPIs are sitting on a phenomenal profit. There could be some profit-taking towards the year-end," said G Chokkalingam, founder, Equinomics.
Even on a technical basis, the space looks promising, according to Dharmesh Shah, head-technical, ICICIDirect.
"The formation of higher peaks and deeper/shallower troughs highlights elevated buying demand that augurs well for the next leg of up-move in the Nifty Smallcap 100 index.
"Since June 2020, the intermediate correction has been anchored around a 10-week EMA (exponential moving average).
"Price-wise, the index has not exceeded intermediate correction for more than 10 per cent, which has eventually offered incremental buying opportunity," he noted.
Market observers say most stocks in the top 500 universe are fully priced; investors are scouting for buying opportunities in the broader market space.
"As more investors come to the market, everyone starts looking for the next big story.
"The next big story can only be found in small or mid-caps.
"Most large-caps are well-tracked and followed by investors. Mid- and small-caps are under-researched.
"So, the discovery happens, and whenever the discovery happens in a particular sector or stock, it tends to outperform," said Ambareesh Baliga, an independent market analyst.
With inputs from Chirag Madia
Source: Read Full Article