"It is unsustainable for such (pay) differentials to continue without a major adverse impact on the recruitment and retention of talented managers in public sector banks"
– P J Nayak Committee report to "review governance of boards of banks in India" (May 2014)
In FY23, the State Bank of India (SBI) reported a 57.4 per cent jump in its net profit to Rs 55,684.17 crore.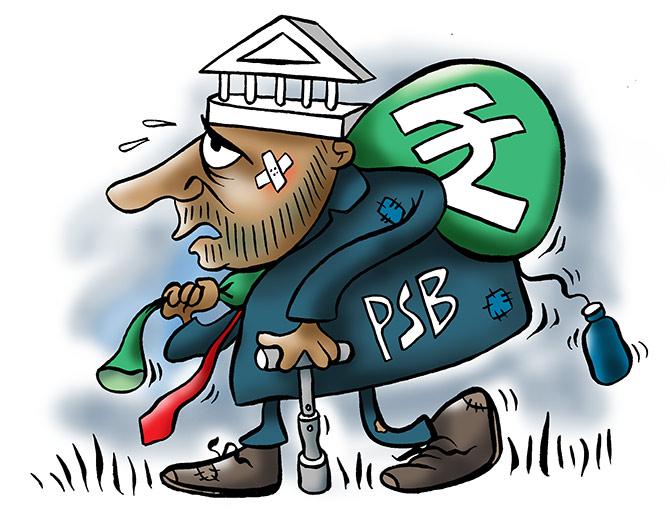 But the chairman of the country's largest bank, Dinesh Khara's annual pay for this creditable performance was just Rs 37 lakh (his peers at state-run banks are no better off).
Look at his private bank rivals — most pocketed in excess of Rs 7 crore annually — plus stock options.
Talk of perks at state-run banks not being taken into account in such comparisons amount to mere quibbles.
Nearly two decades after the Nayak committee's report, the competitive landscape in the financial world has completely changed.
Over the past decade, private banks' share of both incremental credit and deposits are on the rise; technology has reshaped business models; fintechs stomp around; and it's a stiff fight to attract and retain talent.
For talented finance professionals, a desk job at a bank is not the first option as it was in the past — they are being wooed by wider India Inc.
Small wonder, then, that six of India's 11 state-run banks lack a non-executive chairman, with the post lying vacant for as much as two years in some banks.
This fact comes as a wake-up call, just weeks after Reserve Bank of India (RBI) Governor Shaktikanta Das discussed with state-run and private bank boards the need to raise governance standards.
There's been no sizing study on human resources (HR) in state-run banks, save for the A K Khandelwal Committee report (June 2010) — the only one of its kind since liberalisation.
Khandelwal's report had warned of a twister: "Over the next five years, 80 per cent of general managers, 65 per cent of deputy general managers, 58 per cent of assistant general managers and 44 per cent of general managers would be retiring.
"The pool of these experienced executives cannot be replaced only through promotions."
Even though the report didn't refer to the pay gap between state-run and private banks, a case was made for ESOPs.
"… in the future, to 15 per cent of the top performers in the executive cadre including CMD (chairman and managing directors) and EDs (executive directors)."
This aspect has not even figured in the public discourse.
A related issue is state-run banks' cost-to-income ratio.
The Report on Trends and Progress of Banking in India 2021-2022 says it was the highest for state-run banks, owing to their high wage expenditure.
With capital quoting at a premium (and recapitalisation a thing of the past), it highlights the need for a harder look at HR issues.
Pay concerns should not be seen in isolation.
If corner-room occupants at state-run banks are to be change agents, their tenures have to be longer.
Just about every private bank CEO has had a stint of at least a decade; their maximum tenures and age being 15 and 70 years respectively.
O P Bhatt at SBI was an outlier — June 2006 to March 2011.
The Narasimham Committee 1 (1991) was for a minimum stay of five years.
As for their appointment, this committee made the pitch that a panel of retired central bank governors and eminent voices in financial services recommend to the authorities — RBI and Ministry of Finance.
Meanwhile, the 12th Bipartite Settlement — between the Indian Banks' Association and bank unions — is in the works.
More than half-a-century after industry-wide wage pacts for state-run banks came into effect (April 1, 1966), the parameters to assess pay should be up for a deeper review.
Consider: four sets of state-run banks have merged; a staffer may have been a top performer at a bank prior to the merger — but this might not be the case in the merged entity.
Money matters can't be swept under the carpet anymore.
A hike in the remuneration for independent directors was put forward to the RBI's top brass in its interaction with the full boards of state-run banks in New Delhi last month (it figured in the meeting with private bank boards in Mumbai as well).
Recommendation 2.2 of the Nayak committee made an explicit reference to the compensation constraints and short average tenures of state-run bank bosses.
There's still a large talent pool in state-run banks but the reality is that it may not walk in as it did in the past.
The late K C Chakrabarty, a former deputy governor of the RBI, said: "You need to manage people — and for this you need to discriminate between them, I mean positive discrimination."
That time is well upon us.
Source: Read Full Article