With repeated disruptions in manufacturing activity and the dwindling number of jobs, most manufacturers spent their meagre savings and are now in debt.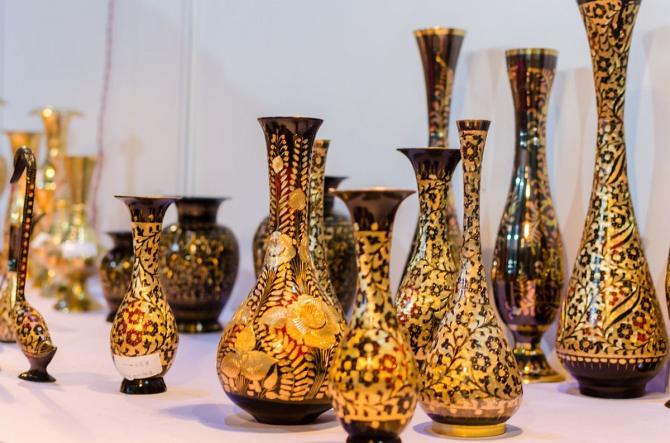 Forty-year-old Shamsher Ahmad has spent all his life in Husainpur Hamir, a hamlet adjacent to "Brass City" Moradabad in Uttar Pradesh, but never has he witnessed a downturn as severe and prolonged as this one.
Ahmad, who has worked as a tool operator in the city's brass utensil manufacturing units for over 25 years, did not get any salary in six out of the 15 months since the outbreak of the Covid-19 pandemic and the subsequent lockdowns.
And even though the micro-scale unit where he works is operational once again, payments to workers are much less than that in the pre-Covid days.
"After no work in April and May, in June I worked for longer hours, but received only 60 per cent of my standard pay.
"Production has resumed, but orders are low. So cash flow has been hampered," says Ahmad, who used to earn Rs 15,000 per month earlier.
Now he and his wife are planning to set up a makeshift food stall on the highway to supplement their household income and feed their five-member family.
Ahmad is not alone.
At least half a million workers, who hail from the nearby hamlets, are in the same boat.
With repeated disruptions in manufacturing activity and the dwindling number of jobs, most have spent their meagre savings and are now in debt.
According to the local Brass Handicrafts Manufacturers Association (BHMA), some 800,000 people are directly employed in Moradabad's massive brass handicrafts and utensils manufacturing industry, which has some 30,000 small and micro-scale units and a total annual turnover of Rs 10,000 crore.
The manufacturers are heavily dependent on export markets such as the US, Canada, Australia and the European Union.
And exports account for nearly 70 per cent of their revenues.
According to industry insiders, since this year's lockdowns, manufacturing has been at 65 per cent of normal levels.
"We had to cut down on the number of workers. But we are hopeful that markets will recover faster than last year," says Rahim Md She­ikh, factory manager at Brass Handicrafts Manufacturers & Exports, an exporter in Moradabad.
Though the lockdowns across the globe severely dented export revenue, industry representatives say that the recovery has been steady since the unlocking in late 2020.
"The loss of sales this year is less than anticipated but revenue continues to be 25 per cent less than normal," says Mahesh Sharma, proprietor at Metal World, a multistorey, air-conditioned showroom of brass works and silver plated utensils on the Delhi-Moradabad road.
At Mandi Chowk, the city's largest marketplace that houses dozens of shops selling brass handicrafts and plated jewelleries, thousands would jostle every day in pre-Covid times.
Today, the hustle and bustle is all but absent.
While some people show up at the eateries and grocery stores, there are hardly any customers at the shops brimming with brass handcrafts and jewelleries. Opposite Shahi Masjid in Bartan Bazaar, showrooms like RSD Collection, Selim & Sons, FS Traders and others wait for buyers who never turn up.
"Local business is completely down. During the festive season last year, sales had recovered to 90 per cent of pre-Covid days.
"But now people are not buying brass products at all. People dealing in the export market are better off," says Rehman Gani, owner of Gani Handicrafts in Bartan Bazaar.
However, though exporters are recovering from the impact of lockdowns, they, too, face a serious threat.
According to Abdul Ghani, director at JR Gifts and Handicrafts, a manufacturer and exporter of brass goods, the rising cost of raw materials is denting the industry's competitiveness in the global market.
"Our overall costs have increased by up to 100 per cent, leading to a severe crunch in the flow of working capital.
"This is a key reason why many of us are not able to pay our employees properly," Ghani says.
According to BHMA, the steep rise in the price of key raw materials like copper and zinc, and the cost of packaging materials and transportation is taking a toll on the competitiveness of local producers and exporters.
While Moradabad's brass manufacturing hub has been competing with producers in China for some time, the emergence of serious players like Iraq and Saudi Arabia could diminish its global dominance over the brass handicrafts market.
In fact, stakeholders at the brass city's industrial belt feel this new crisis could be even more damaging than a probable third wave of the pandemic.
While most expect the impact of another round of measured lockdowns to be less severe than that of the last one, losing the competitive edge to emerging players will cost the city dearly, as more than 60 per cent of its residents are dependent on the brass manufacturing industry.
Photograph: Courtesy Moradabad Smart City
Source: Read Full Article