Rising prevalence of work-from-home and e-learning is driving sales of notebooks and tablets for most brands, but Apple's superior performance has more to do with its product quality.
Arnab Dutta reports.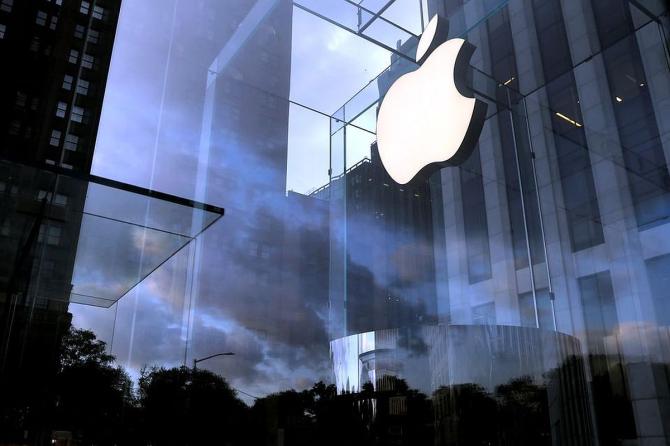 Baljinder Paul Singh's first association with Apple was in 1996 when the US giant's business was mostly confined to enterprise-level computers that sold to a handful of clients in India.
Twenty-five years later, Singh's budding venture has turned into a Rs 1,000-crore business empire that is now the country's largest reseller of Apple products, and the brand now offers all its key products and services to the local consumers.
In the past two and half decades Apple's journey in India has been slow but steady.
That suited Singh, a former table tennis champion, but what excites him now are the brand's recent growth spurt.
In the past two years both the pace of expansion and sales growth have accelerated and, despite the pandemic, demand for Apple products has jumped by nearly 50 per cent in the past four quarters, Singh says.
The craze for the Apple logo was evident from the scenes at the Pacific Mall at West Delhi's Tagore Garden in late March.
Unicorn Infosolutions, Singh's venture, was inaugurating a flagship Apple Premium Reseller Store and the crowd that had gathered from the early morning choked traffic along the arterial road, clogged the parking bay and left mall security staff in a tizzy.
Singh, 48, who operates 50 stores and service centres in north and west India, was overwhelmed by the response.
"The demand for Apple products is extremely high," is all he could say.
This much was clear from the quarterly shipment numbers that came out last week.
During the January-March quarter, shipments of Mac computers, the second largest portfolio for Apple after iPhones, grew 336 percent year-on-year and 45 per cent over the previous quarter that catapulted Apple's standing in the local PC market.
The brand stood fourth in the consumer PC segment and fifth in the overall PC market for the first time, IDC noted.
This after its sales grew 24 per cent in 2020, in spite of the washout in the April-June quarter.
The newer products have done even better.
According to Counterpoint Research, iPhones grew 207 percent year on year and Apple recorded a million-plus shipments of iPhones for two consecutive quarters.
The latest models — iPhone SE, 11 and 12 — captured the top spots in the premium handsets space (priced above Rs 30,000 a unit).
The brand notched a 48 per cent share and the top spot in the premium market in the March quarter, Counterpoint noted.
Overall, the smartphone market grew 18 per cent year on year and the premium market grew by 140 per cent; Samsung stood second after Apple in the premium market.
Samsung's overall smartphone volumes grew 43 per cent.
Meanwhile, iPads, usually the least sold Apple product among the top three categories, pushed global rival Samsung out of second place in the highly price sensitive tablet market after growing by 144 per cent year on year, analyst firm CyberMedia Research (CMR) said.
The Apple iPad 8 garnered 17 per cent market share and Apple iPad Air 2020 had a 9 per cent market share in India, taking Apple's overall share in the tablet market to a new high of 29 per cent.
Overall, the PC market grew an impressive 73 per cent in the March quarter, but the growth rate for Macs was over four times of that.
For tablets, Apple grew 144 per cent against an overall market growth in double digits.
This performance suggests a remarkable immunity to the severe pandemic-induced financial stress among a large section of consumers that has impacted discretionary purchase businesses from passenger vehicles and consumer durable items.
Upasana Jain, associate research manager at IDC India, said that the rising prevalence of work-from-home and e-learning is driving sales of notebooks and tablets for most brands, but Apple's superior performance has more to do with its product quality.
"Consumers have realised that they need to invest in electronics items that will help ease their job.
"Further, many who aren't spending on outdoor leisure activities, are now allocating that money for high-tech products that are reliable," she pointed out.
Apple's dream run may slow in the current quarter.
With all key markets locked down and delivery of smartphones and notebooks excluded from the "essential items" e-commerce delivery list, sales are set to dwindle in the April-June quarter.
Singh from Unicorn, is however, unfazed.
After opening the country's largest flagship Apple store he is preparing for two more similar outlets in coming months.
The 3,000 square-foot showroom usually costs 150 per cent more than a standard store but he believes it is the right time to place the bet.
As the technology major continues to gain momentum in the country's electronics market, both for Singh and Apple, the best is yet to come.
The Cupertino-headquartered firm is nearly ready with its first Apple Store in the country — at Mumbai's BKC Complex.
Sources said the next two Apple stores will be launched in Bengaluru and Delhi-Gurugram.
"The Apple Store will be very positive for us. The kind of marketing they will do for the entire ecosystem is remarkable.
"I welcome Apple Stores in the country," said Singh.
Apple watchers agree.
"Riding on its recent market success through the pandemic year, primarily driven by increased local assembly in India and strong marketing initiatives, Apple is poised for further growth across product segments.
"We believe that Apple will recover and maintain its momentum going ahead," said Prabhu Ram, head (industry intelligence group) at CMR.
Other analysts like Jaipal Singh from IDC believe that like last year, when the travel curbs are lifted, Apple is set to record another high demand cycle.
Photograph: Mike Segar/Reuters
Source: Read Full Article