Education technology, grocery, fashion, food delivery and UPI payments surpassed volumes or revenues of February, in the September-October period.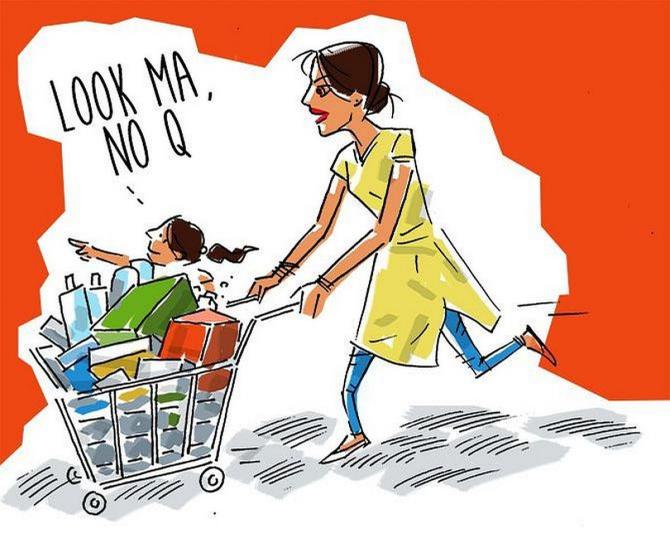 It's been a mixed bag for the business performance of internet verticals across segments, with some managing to exceed pre-pandemic revenues and the rest failing to recover to earlier levels.
Education technology, grocery, fashion, food delivery and UPI payments surpassed volumes or revenues of February, in the September-October period.
However, ride-sharing, classifieds, lending, airlines, and hotels were yet to show recovery to pre-Covid levels, according to a Goldman Sachs analysis.
In many sectors, these developments have hastened consolidation. A few big players control the market with their substantial market share.
Online travel portals have been particularly hit hard. Volumes and revenues of bookings for hotels in September-October were a mere 30 per cent of February. For air travel, it was 35 per cent.
This is of a piece with the fact that domestic air travel at Delhi airport, for instance, in terms of passengers in October, is 43 per cent of last year and the number of flights is 53 per cent, according to airport sources.
Even worse is international travel where, except for the bubble flights, things have not taken off.
Travel companies say that even if flights resume and tourist visas are given by November-end, they do not expect inbound tourists to be more than 10 per cent of the last financial year.
"Even if e-visas are allowed, inbound tourists take three months to prepare to come.
"So we don't expect more than 10 per cent of what is normal to come in the initial stage.
"And the peak season from Europe is October to February," said Pronob Sarkar, president, IATO.
However, airlines like Vistara, have been looking at adding more flights in the domestic sector now that the government has just increased the cap on flights from 60-75 per cent of pre-Covid-19 levels.
With quarantine rules becoming easier for domestic interstate travel, many Indians are going on holidays though they prefer destinations which are at a motorable distance.
Whatever the mode of travel, it is a relief for hotels.
Ride hailing also has seen slower pick up as the pandemic has made people prefer their own private transport.
Based on app download data from Sensor Tower, rides have fallen to half of pre-covid levels.
Yet, similar covid logic (private is better than public and outdoors is better than indoors) has led to auto-rickshaws being preferred to cabs.
They have already reached 80 per cent of pre-covid levels in places like New Delhi, according to Uber India's ride data.
The same logic has boosted demand for online grocery shopping and education technology.
Online grocery major Grofers' founder Saurabh Kumar spoke of a sharp pick-up in demand.
"We have seen a surge in demand that has stabilized at 60 per cent higher than pre-pandemic times.
"There has also been a 40 per cent increase in basket size compared to pre-covid and average bills have hit Rs 1,800 even after the 30 per cent discount which we generally give," said Kumar.
At Big Basket too, Seshu Kumar Tirumala, national category head, said that 'given the unmatched convenience and safety of home delivery, we saw new customers increase by 84 per cent compared to pre-covid and the retention rate went up by 50 per cent'.
In EdTech, Byju has signed up 25 million customers in the last five months compared to 45 million in four years.
As a result, Goldman Sachs estimates that its revenues have gone up by 200 per cent of pre-pandemic levels.
Consolidation has led to Byju claiming it has a 90 per cent market share of the country's online K-12 education.
It has also bought WhiteHat Jnr, the coding platform for children, and is looking at a few more acquisitions.
Byju expects to hit a revenue of $1 billion in FY21, more than double the $450 million it made in the last financial year.
In the jobs classified business, Info Edge dominates with its 80 per cent market share.
This market is slowly recovering close to its pre-covid levels at 75-80 per cent.
The competitive pressure on MakeMyTrip has reduced, despite numerous online travel players such as Yatra and Cleartrip and hotel aggregators such as Oyo.
Nonetheless, MakeMyTrip has over a 50 per cent share of the market in hotels, air and bus bookings, making it easier for the company to tide over the crisis while most of its competitors are facing challenges.
In the UPI payments business, PhonePe and Google Pay dominate the business, controlling 40 per cent of the market as a result of more consumers shifting from cash to contactless payments.
But their cosy space might now come under challenge with the entry of WhatsApp.
Source: Read Full Article