New York (CNN Business)Boeing was dealt a double blow in April as deliveries of new planes ground to a near halt and canceled orders continued to climb in response to an unprecedented drop in air travel caused by the coronavirus pandemic.
The company delivered only six planes to customers in April, the lowest number of deliveries since 2008, when the company was dealing with a massive employee strike. Deliveries are important to the company's finances because it receives most of the money from airlines when the plane is actually delivered. Boeing reported a $1.7 billion loss from its core operations in the first quarter,and announced plans to cut 16,000 jobs, about 10% of its staff, to save cash.
Boeing halted deliveries of its bestselling 737 Max in March of 2019 after regulators grounded the jet in response to two fatal crashes. But the company was able to continue to deliver other jets; it averaged nearly 24 deliveries a month over the 12 months ending in March.
On March 23, Boeing announced it was halting production in Washington state after an employee in one of the factories died of Covid-19. It stopped production at its other commercial airplane factory in South Carolina on April 8. While it did restart production later in the month, it is building at a slower pace due to the drop in demand from its airline customers.
These are the stocks Covid-19 is impacting the most – and the least
US air travel has plunged more than 90% from year-ago levels, forcing airlines to park most of their planes and cut back on plans to buy new ones. When asked if it's possible that a major US airline could be forced to go out of business, Boeing CEO Dave Calhoun said that was possible.
"I don't want to get too predictive on that subject, but yes, most likely," Calhoun said in an interview on the Today Show Tuesday when asked about the chance of an airline going out of business. "'Apocalyptic' does accurately describe the moment."
Still Calhoun said that believes air travel will resume, even if he agrees with forecasts that it will take three to five years for travel to again reach 2019 levels.
"As people begin to relive their lives, we expect that they will also get back to traveling," he said.
But the near-term drop in demand for planes was evident as the airline reported 108 canceled orders in April. Most of those canceled orders came from aircraft leasing customers, who buy jets and lease them to airlines.
GE Capital announced it was canceling orders for 69 jets on April 17, and the China Development Bank canceled 29 jet orders. The other 10 cancellations were by an unidentified customer.
That brings total canceled orders so far this year to nearly 300, far more than what was canceled all of last year in the wake of the 737 Max crisis.
The company also reclassified 101 other orders, removing them from what it counts as firm orders for jets. Many airline customers are delaying deliveries of jets, as roughly two-thirds of planes around the globe have been parked due to plunge in demand for air travel.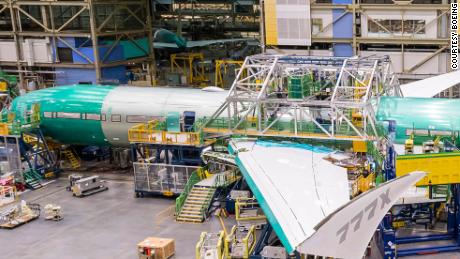 Southwest Airlines (LUV), one of Boeing's best customers, announced it was deferring at least 59 of the 107 737 Max jets it had planned to buy by the end of 2021.
"We don't need the Max right now. We don't need all the airplanes that we have," Southwest CEO Gary Kelly told investors last month as the company reported its first operating loss in 11 years.
Source: Read Full Article