But what do banks gain by opening their apps for all?
Anup Roy and Abhijit Lele find out.
Long after automated teller machines were made interoperable for bank customers, the whole gamut of banking is becoming membership agnostic.
ICICI Bank created some buzz by announcing its banking app — iMobile Pay — would be free for all to use.
A customer need not be with the bank, but can link her bank account with a Unified Payments Interface (UPI) ID with ICICI Bank and start using it for all kinds of payments across all platforms.
Much like how Google Pay is being used for paying bills and purchases through UPI.
iMobile Pay can also be used to get credit cards, instant loans, and, if needed, a savings bank account with the ICICI Bank.
In the coming days, the bank plans to introduce products such as fixed deposits, recurring deposits, mutual funds and insurances through the app.
Feeling the competition pinch, the country's largest lender, State Bank of India has said it would also make its app open for all in 30 days.
SBI's multipurpose app YONO, which was once touted to fetch a valuation of $40 billion-$50 billion, was meant to be licensed to others for usage.
So, the platform is ready.
However, if the bank makes YONO free for all, the need for licensing would be obviated.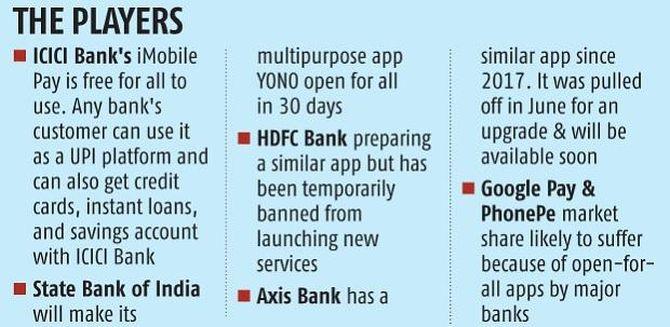 In many ways, this is the ATM-isation of banking.
According to C S Setty, managing director (digital and retail banking) of SBI, this is one more payment option for customers.
"There is a clear trend towards commoditisation — anyone can approach for service without having an account with a concerned bank. It happened with ATMs, now this is being seen in the payments space," Setty said.
HDFC Bank was also preparing a similar facility as part of their new digital initiative, said a source, but has been temporarily banned from launching new services by the Reserve Bank.
ICICI Bank or SBI, however, are not the first movers in the space.
Not publicised as much, Axis Bank has such an app operational since 2017.
The app was pulled off temporarily in June for some upgrade, but it will be back soon, said Sameer Shetty, executive vice-president and head digital banking, Axis Bank.
"This functionality was live on our mobile app since 2017. Many app users of ours are non-Axis Bank customers who are using only the UPI functionality and have linked other bank accounts to our app," said Shetty.
Since 2017, about two million non-Axis Bank customers registered for this service.
Separately, the bank also has a dedicated app for UPI called Axis Pay.
Another two million non-Axis Bank customers are registered on that app.
But what do banks gain by opening their apps for all? The answer — rival bank's customers under their fold.
"And, this may also help banks earn fee income by acting as intermediary or distributor," said Nitin Aggarwal, banking analyst at Motilal Oswal.
Such open-for-all facilities will dent the share of rival fintech players.
According to data from the National Payments Corporation of India, Google Pay and PhonePe accounted for about 81 per cent of the number of transactions, and, in value terms, 86 per cent of the total Rs 1.65 trillion in October.
These numbers will come down for the two players as the NPCI, developer of the UPI, has put a cap of 30 per cent on the total volume of transactions for each player.
The cap will add more participants and that would be better for the payments industry, said Akshay Mehrotra, a founding member of the Fintech Association for Consumer Empowerment, and CEO and co-founder at EarlySalary.
"It is the need of the hour for banks to use payment apps as a customer acquisition channel," said Mehrotra.
But it won't be easy for all banks to develop such open architecture apps, as "this requires years of effort to build," said Aggarwal.
Source: Read Full Article