Microsoft top boss Satya Nadella feels the increase in productivity has come at the price of burning the 'social capital' built up by companies over very many years, observes ad guru Sandeep Goyal.
Illustration: Dominic Xavier/Rediff.com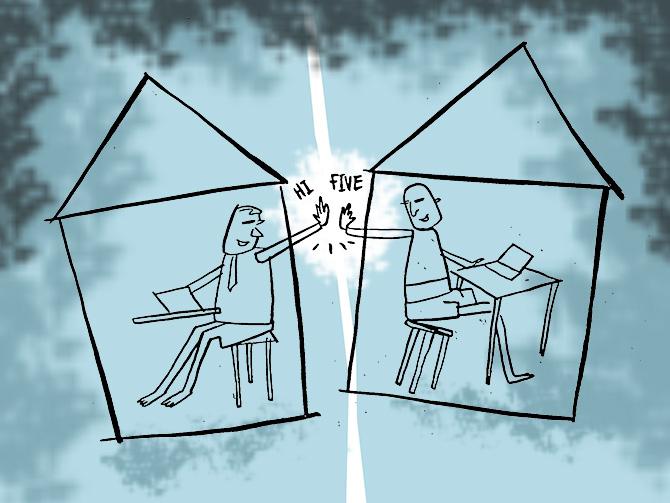 Satya Nadella is perhaps the first global chief executive officer to bemoan the 'lack of touch' in the 'work from home' (WFH) new normal that has started to define contemporary corporate work, especially in tech industries.
Mr Nadella acknowledged in a recent media interview that the productivity of Microsoft employees working from home has gone up visibly in recent weeks, but he feels it isn't something to 'over-celebrate'.
The Microsoft top boss feels the increase in productivity has come at the price of burning the 'social capital' built up by companies over very many years.
Back to the 'lack of touch' one experiences when everyone is working remotely, the 52-year-old tech mogul said he misses walking into a physical meeting which gives him a chance to connect with the persons next to him 'for the two minutes before and after'.
To be honest, Mr Nadella is kind of a lone ranger in this territory.
Most corporate bosses are going ga-ga over WFH which has, in fact, been touted of late as the new panacea for both employees and employers.
From simplistic, and obvious, arguments on why employees love WFH: Zilch commuting time, almost zero wardrobe costs, to money saved from buying lunch at the office cafeteria, and more.
Employers are happy because of demonstrable savings in office space, lower infrastructural overheads and the almost 24×7 availability of employees. It seems a win-win for all.
Once WFH was announced in many multinational companies days ahead of the governmental lockdown in March earlier in the year, about 30 to 40 per cent employees packed their bags and headed to their hometowns.
Not every one of them has the necessary broadband connectivity (and many have perennial problems of power outage) in their small town homes, and this has become an issue with provision of consistent quality service to global clients.
Most also do not have the physical space within their family homes to afford a quiet corner for conference calls, or even day-to-day work.
Another problem that has happened with many of the single employees living in paying guest or shared accommodation is that their roommates have objected to them working at odd hours, leading to unpleasantness and at times ugly fights.
Some landlords and housing societies have raised another red flag: Does WFH mean that power companies can, and will, charge commercial rates for electricity even in dwelling units, now that these are being used for 'work'? Similar issues could well soon be raised by municipal authorities on local taxes.
Which is why many landlords have started saying 'no' to potential tenants who say they will largely be working from home! So there are early hints of trouble in paradise already.
Many companies with global clients, especially those handling critical and confidential functions, including sensitive financial data, are invariably security cleared after rigorous checks by specialist teams from overseas.
Employees working on these kinds of projects cannot be allowed access from home. The risks are just too pronounced.
Advisories from clients and foreign governments prevent workers from home being associated with many projects where sensitivities are high.
There is no denying that WFH has its benefits. Most importantly, it allows a large number of women to actively join the workforce, and constructively use their education and talents, without being constrained by motherhood and other family responsibilities.
WFH allows flexible work hours. It also makes possible compensation based on transactions… those who work longer hours can be paid more based on a success fee model.
WFH during night shifts obviates the need for company transportation and security protocols.
The small town problem discussed earlier as a limitation can also be turned into a low-cost advantage with proper planning and resourcing, with the added benefit of geographically spreading the business continuity programme that most companies today need to necessarily have in place — today Mumbai and Delhi are red zones but lots of other states, and their towns and cities, are orange and green, hence not obstructed by restrictions on movement or work.
WFH employees in such locations provide a big safety valve to the seamless running of business processes.
Also, an additional million or more qualified youngsters can gain employment without leaving small towns for big cities.
Back to Mr Nadella's 'lack of touch', the biggest limitation of WFH is the absence of water cooler conversations, impromptu corridor meetings and cafeteria interactions that build the 'social capital' and company culture that differentiates one organisation from another.
One possible solution is a shift from the current 100/100 model to 25/25 — that is 25 per cent of employees attend office at any given time, and overall all employees spend at least 25 per cent of their time in the office.
That could help HR initiatives on mentoring, team-building and empowerment.
As Socrates said, 'Change should focus not on fighting the old, but on building the new'. He could well have said that about WFH.
Production: Rajesh Alva/Rediff.com
Source: Read Full Article