The recovery momentum could be petering out well before the recovery is complete, notes Mahesh Vyas.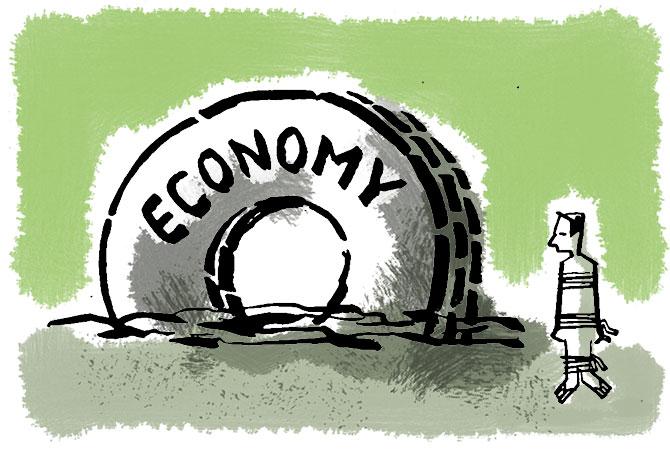 In July 2020, the unemployment rate returned to its pre-lockdown level.
Different comparisons can yield slightly varying results, but broadly, it would be fair to say that by July 2020 the unemployment rate had come down to the pre-lockdown levels.
The unemployment rate in July 2020 was 7.4 per cent.
This is lower than the average unemployment rate of 7.6 per cent during 2019-2020.
The unemployment rate in February and March 2020 was 7.8 and 8.8 per cent, respectively.
The July 2020 unemployment rate is lower than both. However, it is slightly higher than the 7.3 per cent recorded a year ago, in July 2019.
Weekly trends of July had correctly suggested a sharp fall in the unemployment rate from its 11 per cent level of June 2020.
It had also correctly suggested an increase in the labour participation rate.
Apropos of that, the labour participation rate has risen from 40.3 per cent in June to 40.7 per cent in July.
However, the labour participation rate is still significantly lower than the average of 42.7 per cent recorded in 2019-2020 or the 42.5 per cent recorded during January-March 2020.
Therefore, while the unemployment rate has recovered to its pre-lockdown, the labour participation rate has not recovered as yet.
The labour participation rate fell to 40.5 per cent in the last week of July 2020.
An economic recovery is underway from the precipitous fall of April.
But the recovery momentum could be petering out well before the recovery is complete.
Production data suggest that after the steep fall in April, there was a strong recovery in May.
Then, the rate of recovery slowed down in June.
The 8-core industries index shows that after a 38.6 per cent month-on-month fall in April, May recorded a robust 30 per cent rebound in the index.
In comparison, the improvement in June was very small, at a mere 5.6 per cent.
Labour statistics suggest a different recovery path.
The employment rate fell 11.9 percentage points — from an average of 39.1 per cent during January-March 2020 to 27.2 per cent in April.
This recovered by 2 percentage points to 29.2 per cent in May and by much bigger, 6.7 percentage points in June to 35.9 per cent.
In July, the recovery is a modest at 1.7 percentage points to 37.6 per cent.
Even after the robust recovery of June and the continued recovery in July, the employment rate is still much lower than what it was during 2019-2020.
Part of the difference between industrial data and employment data can be explained by the fact that the former does not tell us anything about the agricultural sector, which has been seeing a sharp increase in employment on account of MGNREGS and also because of robust sowing of kharif crops.
Person-days of employment offered under MGNREGS recorded a 53.8 per cent y-o-y growth in May and then a massive 99.2 per cent growth in June.
July recorded a lower, 38.5 per cent expansion.
By the end of June, kharif sowing was twice its level a year ago.
By the end of July, the lead narrowed down to 14 per cent.
Therefore, while industrial data shows a spurt in activity in May and a slowing down of growth in June, rural activities show a spurt in May and a much bigger rise in June followed by a slower growth in July.
Labour statistics from CPHS seem to reflect the recovery of May seen in both rural and industrial data.
They also reflect the extraordinary spurt in rural employment and kharif sowing in June.
They do not seem to acknowledge the slowdown in recovery of 8-core industries in June.
But, 8-core industries are not labour intensive.
Whether we read the slowing down of growth in industrial activity in June or the slowing down of the recovery in the employment rate in July, it is apparent that the initial recovery in economic activity is slowing down.
The labour force in July 2020 was still nearly three per cent lower than the average labour force in 2019-2020.
So was the number of persons employed.
There is much to catch up. It's not time yet to slow down the recovery process.
Mahesh Vyas is managing director & CEO, Centre for Monitoring Indian Economy.
Feature Presentation: Aslam Hunani/Rediff.com
Source: Read Full Article